Tony Bryant (left) with BBC producer Phil Pegum (right), and singer Dani de Utrera (middle), recording The Spirit of Flamenco for Radio 2 in the town of Utrera. Photo courtesy of Tony Bryant.
English author and andalucia.com flamenco expert Tony Bryant collaborated with the BBC for their Radio 2 documentary about renowned Spanish musician Paco Peña, The Spirit of Flamenco, which is being broadcast tonight at 10pm UK time (11pm Spanish time) as part of the station's Guitar Season. I spoke to Tony to find out more about the programme, and what it was like recording in Utrera and Seville last month, where he acted as organiser and translator.As a non-flamenco expert, I started by asking who Paco Peña is.
Tony Bryant: Paco Peña is one of the main
flamenco
'guitar soloists'. He is one of many guitarists who has promoted the flamenco guitar (and hence flamenco itself) to the rest of the world, especially England – he has performed everywhere from Ronnie Scott's to the Royal Albert Hall. There are so many celebrated guitarists within this world, and they have all done their own bit; Paco's show Misa Flamenca was the first of its kind - he was the first person to set the Catholic Mass to flamenco. He was also responsible for setting up the guitar academy in Cordoba (Centro Flamenco Paco Peña), now part of the renowned 'Concurso' (Cordoba International Guitar Festival) which takes place every July in Cordoba.
Paco was born in Cordoba but has lived in England since the late 1960s - he is more famous outside Spain, although he has been spending time back here of late. He speaks perfect English - in this programme, you can hear him talk about how he learned to play the guitar as a child with his brother in the patio of his house in Cordoba.
So how did you start planning your part of the programme?
Tony Bryant: The BBC contacted me in February this year with the idea of a documentary – they wanted to record some authentic flamenco. I thought Utrera would be a great place to record, as it is the cradle of pure, uncommercial flamenco, with several different dynasties, and I have so many wonderful friends there.
Social Media was a big help – I put a note on Facebook, saying that I had been approached by the BBC and was bringing them to Utrera, and wanted to organise a
juerga
(a get-together) and I got a huge response. I wanted to choose people who were well connected, from the major flamenco dynasties of Utrera.
I've known flamenco artists in Utrera since 2006, when I met Luis El Marquesito, who is a singer from the Pinini clan. I kept hearing about the huge clan of flamenco singer, Fernando Peña Soto, El Pinini, from Utrera – so many artists were related to him. El Pinini himself had 10 children, who each had five or so, and so it's a massive dynasty.
As I wanted to find out more, I went to the Feria de Utrera with a friend, and met Luis, who is part of the Panini family. I bombarded him with questions, and he got me lots of information, and I wrote
a book about the genealogical history of the Panini clan of Utrera
. Luis has become a good friend, and I get invited to family events like baptisms.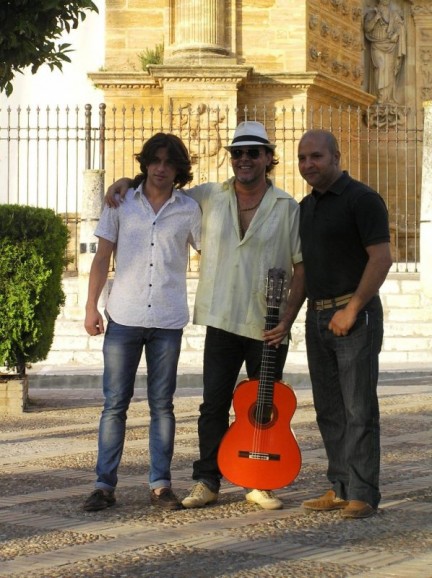 (From left) Dani de Utrera, Paco de Amparo and Luis El Marquesito, as featured in the BBC Radio 2 documentary The Spirit of Flamenco. Photo courtesy of Tony Bryant.
What was it like making the programme with the flamenco artists in Utrera last month?
The producer, Phil Pegum, got nervous because the musicians hadn't turned up. He kept asking me "What time did you say to them?" – in fact they were only 20 minutes late.
He wanted to record Paco de Amparo, the guitarist, playing a solo piece – a
buleria
. When Paco started playing, the other two (Luis and the other singer, Dani de Utrera) would clap and shout encouragement (called
jaleo
). Phil got annoyed and told them off for clapping, because he didn't want any other sounds to intrude on the guitar. He didn't realise that this is how flamenco artists play – as a group, with participation from the others. I had to say to him, "I thought you wanted authentic flamenco – this is as authentic as it gets". Afterwards, he apologised.
Fiona's note: As a flamenco novice, the producer wasn't familiar with the loose ambience of flamenco playing, and his technical demands didn't fit with the spontaneous way of joining in which flamenco musicians have. Noone in a flamenco group sits in a respectful silence while their fellow musicians are playing (unless it was for the late Paco de Lucia, perhaps).
Where else was the programme recorded?
TB: The next day, after recording in Utrera, we went to the
Museo del Baile Flamenco
in Seville. When we arrived, there was a flamenco dance class taking place, so we interviewed some of the American students. We also talked to the director of the museum, Kurt Grotsch, who is very knowledgeable about the roots of flamenco.
For the last part of the programme, they had asked me to find a priest who loves flamenco - I managed to track one down in Cordoba, which was ideal as that's where Paco Peña himself is from.
I asked Tony which Paco Peña CD he recommend to people who are unfamiliar with the musician's work.
TB: Requiem to the Earth; it's incredible!
What should people who don't know anything about flamenco's history and different palos (types of songs) bear in mind when listening to this programme?
TB: This is a difficult question, because flamenco is a difficult subject for those with little or no understanding, but hopefully it will give the uninitiated an insight to the 'flamenco way of life' that still exists in certain parts of Andalusia.
BBC Radio 2 programme The Spirit of Flamenco, part of the Guitar Season, will be broadcast on Monday 16 June at 11pm Spanish time (10pm UK time). You can listen to a trailer, or download the podcast of the programme once it's been broadcast.
You can order Tony's books on flamenco here.