GUEST POST: REBEKAH THOMPSON
Living in on the Costa del Sol it has become very easy to take my surroundings for granted; I live just a bus ride away from some of the most famous cities not only in Spain, but around the world, most of which I haven´t managed to see. I have been living in Andalucía for seven months now and, before last weekend had only visited three out of eight of Andalucía´s provinces – a pretty poor statistic given my workplace. To rectify this, my friend and I thought we would attempt to attend the Spring Feria in Seville. However, in standard industry fashion, the accommodation price rocketed, and those that weren´t through the roof were, of course, already full up.
As a consolation, we booked for the weekend preceding the Feria, in the hope of catching some action, and maybe beating the queues to the monuments. I asked my colleague, AC resident blogger, journalist, and Seville connoisseur Fiona Flores Watson for some inside tips, on where to eat, what to avoid, and the must-see sights of the city, and on Saturday went off on the bus with my friend and a very long list of things to do.
On arrival, we took a taxi from the Prado San Sebastian bus station to our hotel to drop off our bags – using knowledge picked up at
Cádiz Carnaval
- wheely suitcases and cobbles make for aching arms and broken wheels.
The receptionist at the hotel gave us a map and explained "You are here" - next to the football stadium – leading into "What team do you support?" and a subsequent debate about Manchester United versus Manchester City (controversial stuff). He also complimented our Andaluz accents, which gave me two feelings: pride and fear. Pride, because my Spanish is becoming authentic, and fear that my university professor will not be able to understand me come September!
Then the receptionist showed us the local bus stop and told us to take the second stop to reach the main sights – failing to mention that between the two main stops, there are two other stops … so having paid for the bus we actually ended up walking most of the journey; the start of a downhill slope in terms of walking and buses (I don´t think I will ever get the hang of public transport in Spain). However, as luck would have it, it was lunchtime, so we nipped off to the tapas bar which had been recommended to us by Fiona – when I say nipped, I mean orientated the map the wrong way, then the right way and figured out the various different codes and coordinates. I actually did Duke of Edinburgh Awards at school, but Mount Snowdon has more sheep and less winding alleyways.
Once we had found the restaurant, we chose a selection of tapas including Seville´s traditional
solomillo al whisky
(when in Rome…) which was deliciously tasty and tender. I could see why it is considered a delicacy; if you are going to Seville I recommend you try it.
Then of course came the touristy bit: the Alcazar, the Giralda and Plaza de España. We arrived at the Alcazar – which we were able to enter for just €2 as students (with a valid student ID and proof of age 16-25). I had been to the Alcazar before, about 10 years ago in July, so I was too young and too hot to fully appreciate its beauty and tranquility – even with all the tourists sightseeing, it felt so peaceful I had to whisper. The Moorish architecture is astounding – the intricacy of the tapestries, the paintings and the carvings – even the
azulejos
(tiles); I cannot imagine the work they must have taken.
The gardens are breathtaking; the roses are perfect and the scent is incredible. It is so regal that there are even peacocks roaming around, although granted it appears they have taken to hanging around the café scrounging for crumbs – a bird´s got to eat!
After the Alcazar we went to the Giralda – equally as majestic and attractive as the Alcazar although sadly not so peaceful. We took our photos, had a look around and ended up in a debate with a Spanish stag party from Madrid, as to whether Giralda or Big Ben is taller. I could not believe that Big Ben was so small, but alas I was wrong (don´t tell anyone): the Giralda at 104.5m tall is 8.2m taller than Big Ben, which is only 96.3m. From the Giralda we walked a very roundabout route (our map skills not yet honed) to the Plaza de España, via Puente Triana, the Plaza de Toros and Torre de Oro.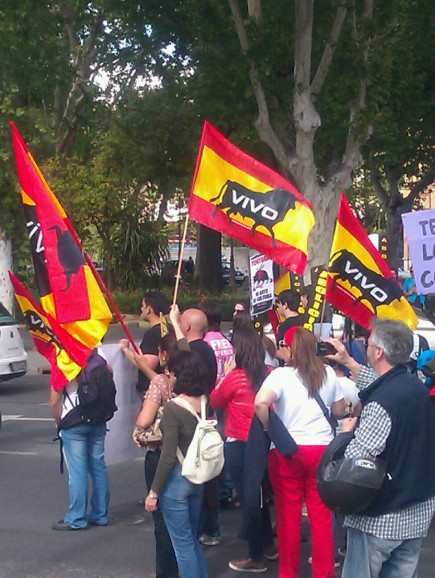 Saturday was the first day of the bullfighting season in Seville so the streets were teeming, and we stumbled by chance upon a March of protestors, for whom the roads were closed; it was very well organized and supervised, and slogans included: "Andalucía Anti Taurina" and "Es tortura, ni arte ni cultura". I was surprised by the vast age range of those involved, some children could not have been 10 years old. We stopped a while to watch them pass by – which took a while as their numbers were quite substantial. It was very exciting; one of the things I love about Spain is that you never know what you might come across.
To get to the Plaza de España we walked through Parque Maria Luisa – a beautiful park with lots of shelter from the heat - whilst dodging horse and carriages and teenage tandem cyclists having a very serious-looking race around the fountain. Be careful where you stand around the fountain; if you stand down-wind, you´re in for a soaking.
However, in the heat this was surprisingly refreshing. After a relax on a bench taking in the view we found Málaga´s plaque on the wall and had a photo next to our native Estepona; sometimes you just have to be a real tourist.
After that we retired for our siesta, changed, and went out for dinner – in spite of our blisters we wore heels, a decision we later came to regret walking across town; it seems cobbles do not go with heels either (what do they go with?). Continuing with our touristic day we shared a seafood paella in Plaza Santa Cruz, whilst peeking through the window of the next-door bar to catch highlights of "El Clásico" (my companion is an avid Barça fan). We then made our way to the Alameda de Hercules (that´s far, even in sensible shoes) for some mojitos – a perfect, if a little painful, end to the day.
On Sunday, with very sore feet, we decided not to do anymore sightseeing and to have a lazy lunch before catching the bus at 15:30. However, in true Spanish style, this plan was waylaid, as we stumbled across an outdoor art exhibition at the Museo de Bellas Artes. We were so distracted that we lost track of time and almost missed our coach; we ran to the station and had to knock on the door of the bus to beg to be let in. Fortunately the driver was very kind and allowed us on.
Exhausted, we slept for the entire journey – although I recommend staying awake; the route through Ronda is spectacular (I was awake on the way there). I thoroughly enjoyed being a tourist in Seville; it was a great trip to a beautiful, unique, and culturally diverse city that is full of surprises to be discovered. Where next?