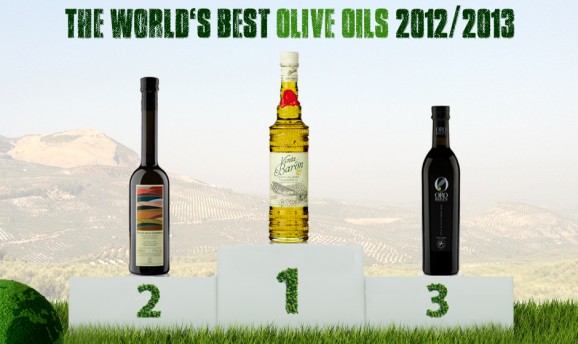 World's Best Olive Oils - nine of the top 10 come from Andalucia. Altogether now: We are the Champions...
I don't use capitals lightly, and, like most journalists, abhor blatant abuse of upper case letters almost as much as inappropriate apostrophes. So it is no accident that in today's blog post headline, four words begin with capitals:
W
orld's
B
est
O
live
O
il. Because the international ranking which goes by this name, in its 2012-2013 list (for that season's production), gave nine of the top ten places to none other than Andalucian extra virgin olive oils (the other was also Spanish).
In the top 20
World's Best Olive Oils
, a total of 13 were Spanish, with 11 of those being Andalucian. The other countries trailing in our wake were Italy and Portugal, in case you're interested. The top two oils, both from Cordoba province, won easily, with scores way ahead of the rest.
This particular ranking is compiled from a number of major international awards of various nationalities, including Spanish, Californian, Israeli, German, Italian (six competitions), Portuguese, and Argentinian.
This is the list of the top ten - name of the olive oil itself, or brand name; then the name of the producer; then the province where it is made - nine of which are in Andalucia. Sorry, I just can't stop repeating that -
NINE OUT OF TEN
. What a source of chest-swelling, bad-news-trouncing, salad-drizzling, face-burst-grinning pride and joy. The Spanish olive industry - and specifically, Andalucian companies and co-operatives - is alive and kicking all the other countries into touch, with our reputation for unmatchable quality.
In terms of Andalucian provinces, Cordoba takes the top trophy, with five of the top 10 - half of the world's finest EVOOs. Quite a gastro-haul; a foodie gold medal; top of the olive oil podium. Jaen follows with three, then Almeria, with an all-important eco-star - the only organic oil in the list.
1) Venta del Baron, Muela Olives S.L. (Cordoba)
2) Rincon de la Subbetica - Alamoda, Almazaras de la Subbetica S.L. (Cordoba)
3) Oro Bailen Reserva Familiar - Picual, Galgon 99 S.L. (Jaen)
4) Cladivm Hojiblanca, Aroden S.A.T. (Cordoba)
5) Parqueoliva - Serie Oro, Almazaras de la Subbetica S.L. (Cordoba)
6) Oro Del Desierto - Organic, Rafael Alonso Aguilera S.L. (Almeria)
7) Fuenroble, Potosi 10 S.A. (Jaen)
8) Reserva de Familia, Casas de Hualdo S.L. (Toledo)
9) Morellana, Sucesores de Hermanos Lopez S.A. (Cordoba)
=10) Bravoleum, Explotaciones Jame S.L. (Jaen)
=10) Mueloliva Picuda, Muela Olives S.L. (Cordoba)
So next time someone pulls a long face and bemoans the terrible state of the Spanish economy, remind them that our extra virgin oil olive is widely considered the finest in the world. That will show them that Spain still has plenty to shout about, with Andalucia's voice reaching above all the others to make itself heard loud and clear.