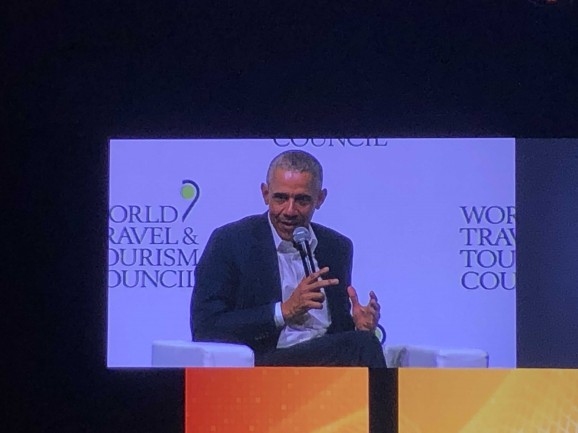 Barack Obama was the main speaker at the WTTC Global Summit in Seville.
World Travel and Tourism Council Global Summit 2019 in Seville
Every year, the travel and tourism industry gets together in a different city to meet, catch up, discuss the major issues of the day, and hear about new developments. The event is so important within the sector that it's known as "the Davos of tourism".
This year, the 19th edition of the conference, which is called the Global Summit, was held in Seville on 2-4 April. The theme was Changemakers, referring largely to environmental and social initiatives, from sustainable tourism to reducing waste.
High-profile speakers
Fibes Conference and Exhibition Centre was the venue for speakers such as the First Lady of Kenya, the Spanish Prime Minster, the former president of Mexico, as well as CEOs of many top travel and tourism companies, such as TUI and Hilton.
The high-profile nature of one guest speaker in particular, the 44th president of the United States, ensured that world attention was focussed on the event, and on Seville, during the first week of April. Obama's arrival in Seville was covered feverishly in the local media, from what time he would arrive, to where he would stay, and what he would eat. The former POTUS elected to stay at the Alfonso XIII, Seville's most celebrated hotel, with regal connections and a litany of past celebrity guests, from Grace Kelly to Tom Cruise.
Tourism boom
The conference kicked off with the presentation of WTTC's annual report into the economic impact of global tourism: over 300 million people employed in the sector – or one in ten on the planet. Over the next 10 years, 1 in 4 new jobs created (100 million in total) will be in tourism. In Spain specifically, 14.7% of jobs are in the travel and tourism sector, with over 600,000 new jobs created over the past year, and the industry seeing 2.4% growth (WTTC Economic Impact Research February 2019).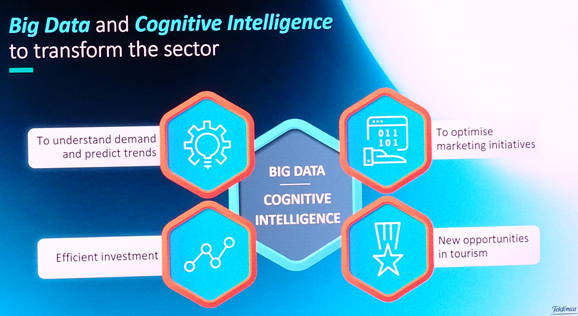 Telefonica CEO Jose Maria Alvarez Pallete, talked about how technology is set to transform travel.
Looking to the future
Many of the speakers in the Wednesday session "The Future Is…" , including Telefonica CEO Jose Maria Alvarez Pallete, and Gloria Guevara, CEO of WTTC, talked about how technology is set to transform travel over the next few years, using biometrics (such as face-scanning) to speed up passport controls. They also referred to driverless cars and drones to bring your luggage, although I think those developments are further ahead. Alvarez Pallete explained that in emerging economies, 57% of people will be aided by tourism by 2030 – up from 45% today – everyone involved from guides, to people selling goods from a stall.
He also mentioned that the benefits of tourism should be spread among small and medium-sized businesses, which need to be digitised so they can be included in growth. Closer to today's reality are the concept of personalised experiences, and virtual reality to transport visitors to historical sites back in time (such as Past View, an innovative and successful concept from a Seville-based company). In addition, the advent of 5G digital cellular networks (at least 200Mbps) will speed up communication.
Spanish PM Pedro Sanchez mentioned that Spain received 83 million visitors in 2018.
Spain and tourism In his speech, Spanish Prime Minister Pedro Sanchez mentioned that Spain received 83 million visitors in 2018; it is an open and tolerant society, he said, and tourism is a way of tackling intolerance. He also emphasised the importance of diversifying destinations, saying that rural tourism has huge potential for growth, and can help in the fight against depopulation.
Sanchez pointed out that the treasures of Spain's interior which are worth discovering. The PM stated that the Spanish are open people with a constant capacity to surprise. He said that tourism is a way of understanding the world, and that tourism creates a meeting between cultures, a mixed society with mutual respect, more important than ever to prevent walls from being built.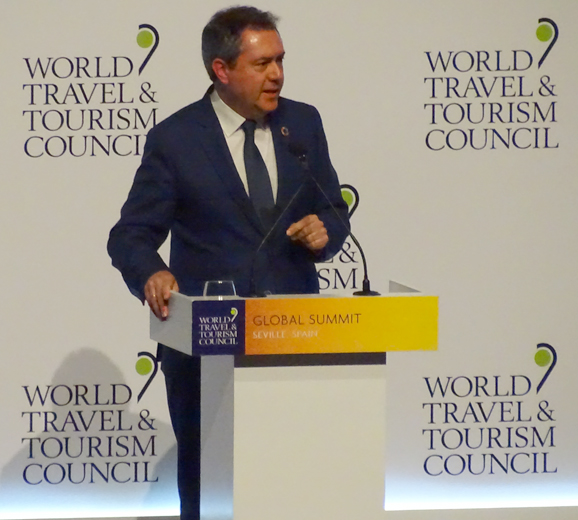 Seville Mayor Juan Espadas said Seville needs more 5* hotels of the calibre of the Alfonso XIII.
Seville's stock as a destination rises
Speaking about the impact of the conference on the city, Seville Mayor Juan Espadas said that Seville needs more five-star hotels of the calibre of the landmark Alfonso XIII. During the summit, Hilton announced it would be opening new establishments in the city, including a five-star GL, and Room Mate also said it was searching for a suitable property. Another exciting development for Seville meetings with Emirates and Delta airlines to try and set up direct flights to the city from Miami and New York.
Obama's travel tales
The former President thrilled the crowd (he was greeted with an ovation before even speaking) by talking about his own travel experiences. He revealed that, for him, travelling with his daughters was the most rewarding experience: "When you're able to watch that sense of discovery in your children's eyes, that's more special than anything else." Obama recalled a trip to Europe in his mid-20s, which he described as a memorable part of his own self-discovery. On a bus journey from Madrid to Barcelona, he befriended a fellow traveller – Obama spoke no Spanish, and the Spaniard no English, yet they shared bread, wine and companionship during the trip.
He talked about the insecurity currently felt by many people due to situations such as Brexit and populism in continental Europe. Obama stressed that one of the benefits of travel was to remind us of our diversity and differences. "Part of diplomacy is letting other people know that you recognize them. That you appreciate their culture and stories and history and memories," said Obama, who made a point of visiting cultural sires while has was president. "Malia and Sasha [Obama's daughters ] want experiences. They like room service and spas, but what really excites them is being able to feel they're interacting with a new culture – meeting people; the music, the food. So this industry needs to figure out how to capture the energy and vibrancy of young people."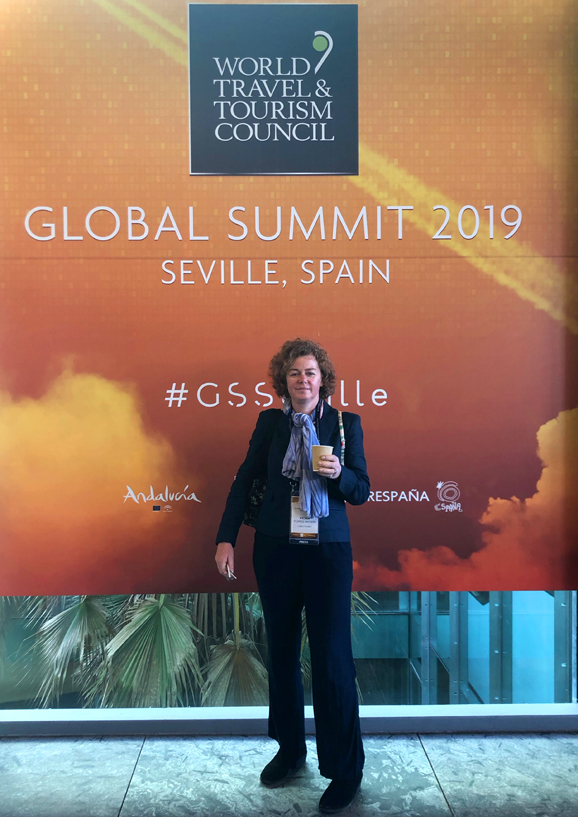 Fiona Watson Flores reporting on the WTTC Global Summit 2019 in Seville.