GUEST BLOG POST: REBEKAH THOMPSON Coming from a small town in the north of England, my knowledge of carnivals prior to last weekend was limited to the annual parade of the local "Rose Queen", which entails lots of bunting, a few horses and carts, and a large garden party afterwards – a pleasant occasion, don´t get me wrong, but it certainly did not prepare me for the experience I had in Cadiz. It all started about a month ago, with a poster in Estepona Bus Station advertising a day-trip by coach to
Cádiz Carnaval
. My fellow interns and I decided that it might be an enjoyable way to spend a Sunday. We spoke about it in the office, and asked various other people, who all told us how great it would be. Curiosity got the better of me and I looked up our pages on Andalucia.com, where I discovered numerous
articles about Carnaval
and the recent
blog post on La Pepa
. I had clearly underestimated the scale of the Carnaval I was going to: "the biggest Carnaval in mainland Spain",
"the only Carnaval that Franco couldn´t ban"
. Furthermore, it was 200th centenary anniversary of La Pepa,
the first Spanish constitution
, making it an extra special year. Needless to say, by the Thursday evening when we went to buy our coach tickets, there were none to be found! Although deflated by this discovery, we soon hatched a Plan B, as there were some tickets left for Saturday's trip - but by this time, a day trip just didn´t seem enough for this monumental occasion. We looked for hostels, but of course to no avail – all cheap accommodation in the city was completely booked up. On Friday I turned to a friend in desperation, begging for a sofa or space floor in his university flat for the three of us, and he obliged. After work we dashed off to trawl the streets of Estepona for fancy dress - without much luck though, so we improvised, buying T-shirts emblazoned with "I heart Madrid" which we edited with glitter and marker pens to "I heart Cádiz", painted our faces and put flowers in our hair (I'm on the left of the photo).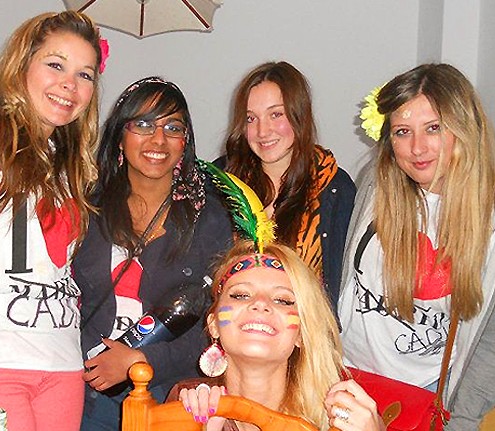 The following day we got on the coach for the three-hour journey to Cádiz. At each stop, the coach filled with clowns, cows, chickens, jesters, and wigs galore. As we approached the city, the coach ran parallel to a Media Distancia train - one look through the window of the train presented more of the same excitement: carriages teaming with fancy-dressed folk. On arrival, we headed straight to Plaza San Antonio to meet the friend whose sofas we were hijacking for the evening. We sat with our bags in the middle of the square and I sent a text message saying "We are in the corner by the group of ladybirds" – one of the most surreal SMSs I can ever recall sending.
The four of us sat in the square for a few hours watching the flocks of characters milling around: a child in a pram dressed as a crocodile, a gaggle of Smurfs, the entire cast of Alice in Wonderland and several groups dressed as the rock band Kiss, to name a few. After a few hours of people-watching in the square, we weaved (literally) to the supermarket in search of food and drinks. The alcohol shelves were almost completely bare, and the only cups left were pink and labeled "Party princess". Beggars can´t be choosers, so the pink cups came with us.
Later we met more friends who had travelled from around Spain as far afield as Madrid - I even met one girl visiting from Russia! By the time we headed back to the square to watch the Chirigotas two hours later, our group had internationalised: a Scot, a Romanian, an Italian, two Spaniards, a Russian, a Frenchman, two Americans, a Swiss girl and five Englishmen.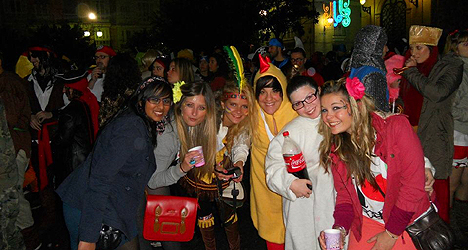 I must say I understood not a word of the Chirigotas, but the atmosphere was quite incredible. We danced and sang along until daylight when the street cleaners arrived, along with some very happy seagulls. The clean-up was astounding - after our few hours of sleep we ventured out again into the already-teeming streets, and you wouldn´t know the night before had even occurred.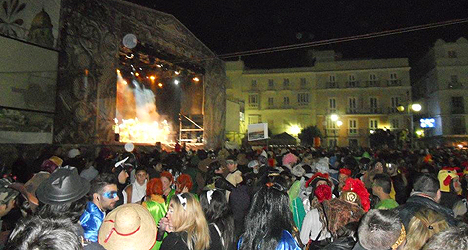 At midday we headed to the beach – one of the most beautiful I have ever seen, with bright white sand, the bluest sea filled with dinghies with a huge tree overhanging what looked like a pixies' hide out. I could have almost believed I was in a fairy tale, especially when I stumbled across a pirate napping on the sand!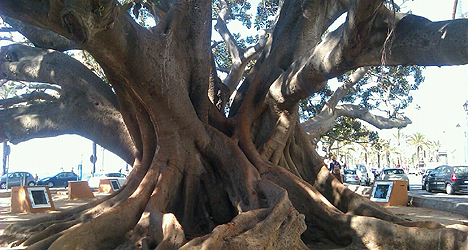 We were due to leave at 2pm, so at 1.15pm we started to make our way to the bus station, a mistake only a Carnaval amateur would make. We got caught up amongst the heaving crowds and could not escape (wheelie suitcases do not make for a speedy get away), and eventually arrived at the station at 2.20pm, missing the only direct bus home. Frustration set in for about 10 minutes whilst we fathomed the three buses and five hours of travel that now faced us – until we all had the ecstatic realization that this catastrophe was allowing us an extra two hours of Carnaval! So naturally we settled in on a patch of grass in the brilliant sunshine and munched on delights from the street vendors – baked potatoes with
alioli
- whilst having yet another surreal moment - a conversation with a man in a chicken suit, who only spoke chicken. I cannot believe I almost missed out on this fantastic experience, one of the best weekends I have ever spent, certainly the best memory of my year abroad so far. A unique event in a beautiful location - I cannot wait to come back next year with my Carnaval knowledge: pack light, book far in advance, do not wear nice shoes and - it is the one occasion to ignore your mother - speak to strangers: you never know who you might meet.