Next month, the spotlight falls on Cadiz, as the noise, colour and irreverence of the Carnaval embodies the delightful anarchy for which this independent-minded coastal city is so famous.
Like
Semana Santa
,
Feria de Sevilla
and the
Cabalgata
, the
Carnaval
also has its own app. With Semana Santa falling early this year, Carnaval is just three weeks away, on 7-17 February.
For the Carnaval is much more than just groups of grown men dressing up as nuns, chickens and babies. The
singing competitions
see topical witty ditties called
cuples
, sung by choruses including those got up in elaborate themed costumes and make-up. This is called the Concurso Oficial de Agrupaciones Carnvalescas (COAC), and includes
comparsas, cuartetos, coros
, and the famous
chirigotas
. It is a high point of the year for many Gaditanos, with groups planning and practising the musical and dramatic performances for months.
A new free app, Carnaval de Cadiz, offers a comprehensive guide to all the events and also allows you to participate.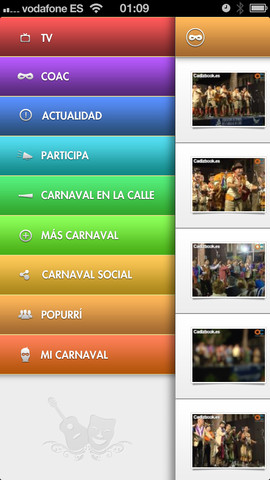 .
From the early stages of the competition, which started yesterday, you can follow each of the 174
agrupaciones
(groups) taking part. These first rounds last from 13-27 January, starting at 9pm each night; the quarter-finals are 29 January to 3 February, semis 4-6 February, and the Grand Final on 8 February, at the beginning of Carnaval itself. For each group in the four categories, you can see all the details: song title, lyricist and composer, director, and budget, as well as the names of previous years' entries.
Every day, you get the chance to vote ("Participa") on that day's performers, by scoring them out of five, and you can check the rankings. The app also offers news updates, selected highlights of the day, weather, and the official programme. You can watch the Carnaval live, and enjoy each entry as soon as it has been performed on Carnaval a la Carta, so you don't have to miss out on any performances. The most popular topic this year?
Los recortes
- the (government) cuts.
There are videos of interviews with various personalities, popular
coplas
from past carnavales, links to related social media accounts, and to useful Cadiz information such as city tourism, taxi companies, and local newspapers.
This is a very comprehensive app, with many video links and other extras, offering you a full and interactive Carnaval experience. For anyone who enjoys these entertaining songs, it's a useful and fun app, as well as being free. The only improvement I thought neccessary was subtitles for some of the entries!
El Carnaval de Cadiz
is available for iPhone and iPad.