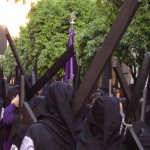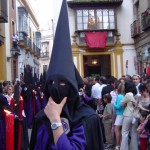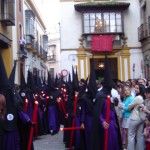 It's been very sad for all the
hermandades
(brotherhoods) who have not been able to go out because of the rain this
Semana Santa
, both here in
Seville
and around Andalucia. And the forecast doesn't look much better for the next few days - 100% probability of rain today (so the Madrugada is definitely off), 95% tomorrow (afternoon), and then 55% on Saturday (afternoon) and 30% (afternoon, again) on Sunday. This varies slightly between different weather websites, but they all agree that Jueves Santo (today) and Viernes Santo (tomorrow) - out are going to be a wash-out, with Sabado Santo and Domingo de Resurreccion looking slightly more positive. You can now find out the exact whereabouts of the processions (those that do decide to venture out) using GPS - each hermandad has a transmittor so you can see where they are, and what time they will be coming past - there are programmes, but delays so happen. There's a also a website,
GPS Cofradia
with hour-by-hour weather forecasts, and up-to-the-minute information about which
hermandades
are going out. And, surprise, surprise, you can download a Semana Santa application for Android smart phones, so you can see the positions of the processions on a map, as well as information about them, such as the colours of their tunics and photographs of them and their churches. Needless to say, a Semana Santa app is also available for iphone - it's called Llamador, which is the name of the person who taps the
paso
to tell the
costaleros
that it's time to hoist its considerable weight onto their necks. A perfect combination of centuries-old tradition and the latest technology.