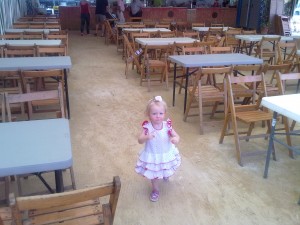 In the midst of mounting uncertainty in north Africa and the Middle East, with Egypt facing civil unrest/near-revolution, as well as continued economic hardship here in Andalucia (nearly a million unemployed, with 350,000 households now having all members out of work; 43% of under-25s in Spain are
parado
), I thought it was a good time to focus on something more positive and happy. Children. Dancing. Passion. Music. The plan by the Junta de Andalucia to include
flamenco
in the curriculum of the regions' schools. The wonderful movie I saw premiered at the Seville Film Festival last November,
Flamenco Flamenco
, can be seen at cinemas around Spain now, and the Junta is still basking in the euphoria of having its region's art form selected as
Intangible Cultural Heritage
by
UNESCO
. It was a great victory for the regional government, after a full-blown campaign, and garnered considerable international media coverage. So we're still on a flamenco high. The idea would be for children at Andalucia's schools to study the origins of the music and dance form. The possibility of this is now being considered by a working group for the Junta's Education Department; it is something which the Junta claims it has wanted to do for many years. There is, however, some disagreement as to in exactly what form flamenco will be taught in schools; some say it will be a set part of the curriculum, while others state that it's an educational resource. For example, initiatives already exist to invite famous performers to bring the art form right into the classroom, playing in front of children as they sit at their desks. In any case, it seems to me a wonderful idea for children to learn about something so integral to Andalucia - what little girl, whether a native Spanish, partly (like my daughter), or indeed of non-Spanish parents - has never donned a flamenco dress to dance Sevillanas at a feria - and loved it. It's all part of life here. Many children will already have a working knowledge of flamenco, from the great
artists
to the different types of
songs
, and
dance steps
. Even its
general characteristics
will be know to children, who have grown up hearing it on CD, watching it on TV, and of course seeing their families play, sing and dance at parties. They will learn how there's a type of flamenco song, tune and dance to suit every mood, from deep sorrow to pure joy. And how to understand and interpret the
cante
,
toque
and
baile
. The working group will report back soon with their findings as to when and how flamenco should be included in the school curriculum. I, for one, am excited at the prospect of my children learning about flamenco at
cole
. Maybe then they can come home and teach me about it, too. When people ask me how integrated my children are into Spanish and Andalucian society and culture, that would be my answer - they know more about flamenco than me.