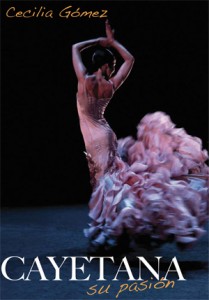 If you've been reading this blog for a while, you'll know that I am fascinated by the
Duquesa de Alba
. Just over a year ago, I interviewed the famously free-spirited, very-titled Spanish aristocrat for another Andalucian publication, and she was utterly charming - speaks fluent English, too. Cayetana Fitz-James Stuart (she's descended from King James II of England) is a very famous figure here in Spain - last year there was a
TV mini-series
about her life, from birth, through her first marriage and six children, to being widowed, then meeting her second husband in her forties. The next installment of the Duquesa's life story - her second marriage and subsequent (spoiler alert!) second widowhood, is due out this year. Needless to say, I can't wait to see it. If you've no idea who I'm talking about, scroll down to see a photo of an octogenarian (in body, not in spirit) with frizzy grey hair and colourful dress sense. She features regularly in the
prensa rosa
, about her rumoured impending marriage to her boyfriend, her art collection, her palaces, her children and their relationships. So when I read about a flamenco show inspired by her life (premiered in Madrid last June) at a theatre in Seville last weekend, I wasn't going to miss it - unfortunately it had a very short run, just five shows last week. But I'd stake money on it coming on again, either here in Seville or in Madrid. The Duquesa loves Seville (she told me it's where she's always felt most at home), but she's a national icon, and it's already been on in Barcelona, Bilbao, Pamplona, Laredo, A Coruña and Alicante; in fact, I'm surprised it took so long to get here. The show, described as a
homenaje
(homage), is divided into seven acts, covering her different "passions" (it's called
Cayetana, su pasion
): Flamenco, Poesia, Caballos, Semana Santa interlude, Alegria, Toros, Pintura, Cayetana. A well-known lover of flamenco, she took lessons in her twenties, as a young, bored bride and mother confined to her palace (tough life). So the first act sees her taking classes from
Antonio Canales
, a well-know
bailaor
from Triana. He's fairly thick around the girth, but his feet certainly move fast. She is young and innocent, in a floaty, gauzy, pastel-coloured skirt with a red fringed shawl around her waist.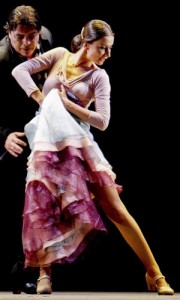 This was how the real-life Cayetana's flamenco performance, at a private reception in her Madrid palace, was portrayed in the TV mini-series.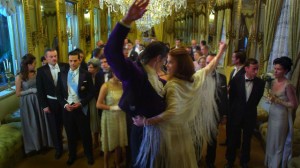 The dancer who "plays" Cayetana is Cecilia Gomez, herself the ex-girlfriend of the Duquesa's ex-son-in-law (come on, keep up).
Fran Rivera
, the famous
torero
, was married to Cayetana's daughter, and he and the Duquesa still have a close relationship (yes, his ex-mother-in-law); the Duquesa's first love (passion, indeed) was a bullfighter, so you can see why she still has a soft spot for Fran. It was thanks to him that Cecilia managed to put the show on - he is also its co-producer and distributor. Here is Cecilia with the Duquesa.
The costumes were fabulous, thanks to Seville-based designers
Victorio y Lucchino
, famous for their super-glam frilly frocks. Lots of tight bodices and applique flowers; the best were for the Caballos section, with
Goyesca
outfits: women in short, braided jackets and knee-length black skirts, with cute
amazona
hats and scarves underneath, and riding crops. The men's version was tight (and I mean packet-enhancing, muscle-showing tight) velvet leggings and cropped jackets, also with scarves and hats; the added effect of the scarves was very dandy-John Galliano.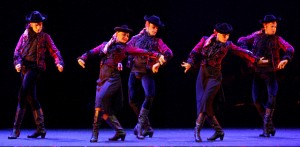 In the section called Pintura, we see reproductions of the famous Goya portrait of the Duquesa's ancestor, the Chagall painting of the flowers by the window, and a Renoir, all from her private art collection; as well as owning art, she's a keen painter herself. "Cayetana" wears a gauzy, floaty layered tulle dress with flowers on it.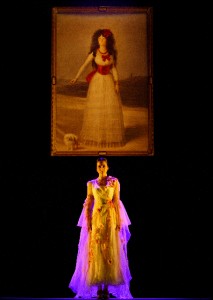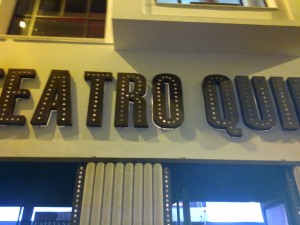 The final detail which made this show so enjoyable for me was the venue. The Teatro Quintero, in the heart of Seville, is owned by journalist and TV interviewer Jesus Quintero (
El Loco de la Colina, Ratones Coloraos
) and is an exercise in narcissism, with photos of him and
famosos
(Alejandro Saenz, Amy Winehouse, Miguel Bose et al) around the red-and-black foyer. Before the performance starts, you see a video of an interview which Quintero did with the Duquesa, where he asks her whether she prefers "
el pueblo o la burgesia
" - she says the people, as they've always treated her well; she says she treats everyone the same - a democratic duchess. Quintero recently called her "
una duquesa del pueblo
". There's also a blown-up photo of Quintero when you come into the theatre, in case you're in any doubt as to where you are.
The auditorium itself is small, maybe 300 seats, so the impression is of an intimate space - I had an excellent seat, very near the front and in the middle (one of the benefits of being a journo) so I could see every expression on the dancers' faces, and all the details of those wonderful costumes. I should point out that this cosy theatrical experience comes at a price; tickets are a steep 30 euros. That's the price you pay for exclusivity, I guess - anyway, it was sold it when I went,
crisis
or no
crisis
. My husband told me afterwards that he'd spotted various socialites and aristos, including the Duquesa de Medina Sidonia (known as the Red Duchess for her political views) and the ex-Duquesa de Feria, Nati Abascal. The show is microcosm of Spain: over-the-top fashion, bullfighting, flamenco, Semana Santa, 18th-century art, horses, poetry (it opens with Quintero reading Antonio Machado's famous poem about "
un patio en Sevilla
", about the Duquesa's own palace, where he grew up). Added to that, the unlikely link between the
bailaora
and her high-society subject - a bullfighter; the flamboyant journalist-theatre owner; and the Sevillian fashion duo (hint of gay mafia there), and you've got the makings of a whole drama in itself. I haven't said much about the flamenco dancing itself, or the excellent singing, because I'm not well-placed to judge (as I've said
before
on this blog, I don't know my
bulerias
from my
seguiriyas
), but it looked and sounded pretty good to me, especially the group of dancers, or
cuadro
. The whole effect, visual, musical, artistic, is mesmering. If it comes on again, go.
See a video clip about Cayetana su pasion
here
with scenes from the Caballo and Flamenco acts of the show and interviews with Cecilia Gomez and Antonio Canales.