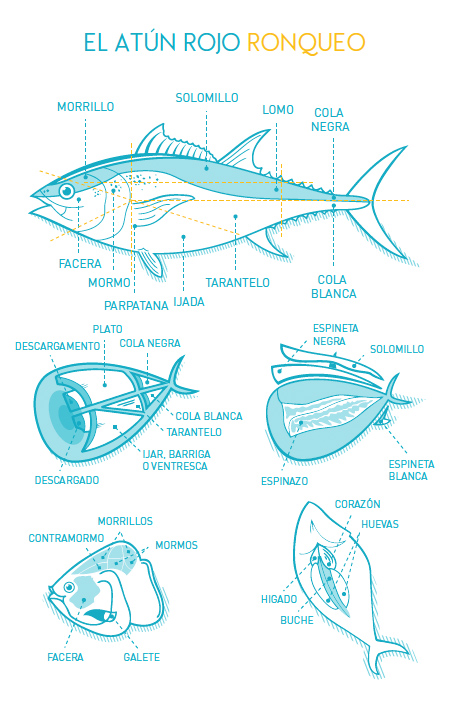 Diagram of a blue-fin tuna, showing all the cuts. Picture: El Campero restaurant (Barbate, Cadiz).
As a self-confessed foodie, and with an avid interest in all things Andalucian, I was excited to be invited to a
ronqueo
.
For anyone who doesn't know what this is, the concept may seem a little odd. A
ronqueo
is when a tuna, freshly caught, is skinned and filleted by hand. Most famously, this is done with
almadraba tuna
, which are fish caught using a traditional system of nets off the coast of Cadiz, during a short season from late April to early June. These tuna are flash-frozen within half an hour of being caught, to be sent to Japan and used in sushi and sashimi. One of the best, and most renowned, places to eat fresh
almadraba
tuna here in Andalucia, is El Campero restaurant in the fishing town of
Barbate
. But since the
almadraba
season finished a month ago, this tuna was caught on a line.
So what's the big deal about it? Well, if you've ever tried filleting a fish - let alone such a large one - by hand, you'll know it's not easy. This is one of those incredibly skilled jobs where the person doing it makes it look like a piece of cake - a well-placed cut here, a deft slice there, and before you know it all the meat has been removed from the carcass. Yet it takes years to master the art of slicing cuts of meat off an 180kg tuna so efficiently that nothing goes to waste.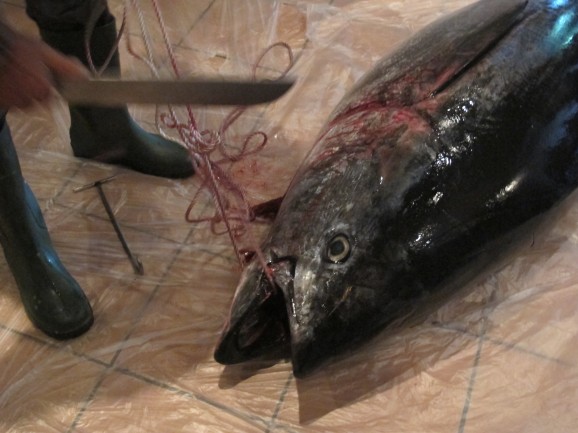 The tuna, line-caught off the Cadiz coast the previous day, arrives at Duo Tapas in Seville.
My first-ever
ronqueo
was in a tapas bar in the boho-trendy Alameda area of Seville called Duo Tapas. It was a joint venture, organised between Duo Tapas, which owns two other bars including a Peruvian-Japanese called Nazca, and another place called La Pepona. All serve good, inventive-without-being-overly-fancy tapas, at reasonable prices - not OTT gastrobars, in other words.
As I arrived, the floor was being covered in clear plastic sheeting in preparation for the inevitably messy operation that was about to start. There was a palpable sense of anticipation among those gathered, from photographers and press, to food bloggers, to restaurant staff. As a non-meat-eater, I was apprehensive about the amount of blood and guts I was about to see, but then I figured that if I'm going to eat it, I should see where it comes from. Apart from the stinky guts, I found it fascinating rather than disgusting. Must be getting hardened after all these years in Spain. Even so, I've tried not to use too many gory photos.
Then the blue-fin tuna (cost: around 3000 euros) was wheeled into the restaurant on a cart, and placed in the middle of the floor. During the following half-hour, an experienced fishmonger called Rafael Gonzalez produced around 110kg of meat from the animal, explaining each cut as he went. We saw the heart, the gills (not for eating, but extraordinary to see), the
mormo, morrillo
and
facera
(cuts from the head),
parpatana
(area between the head and body); and the classic cuts of
ventresca or ijada
(belly),
solomillo
and
lomo
(loin),
cola negra
and
blanca
(tail), and
huevas
(roe).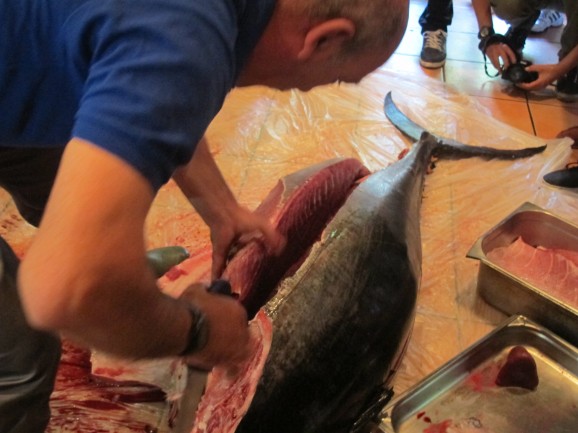 Rafa neatly divides the meat from the spine.
If you listen carefully (00:06-00:09), you can hear the
ronqueo
(snoring) sound as Rafa cuts along the jagged spine, after which the process is named -
roncar
means to snore.
Once Rafa, who's been in the business for 32 years, had finished (with the results laid out on a long tables, from the head to the tail, see video above), the chefs started on their work. The man in charge of the action was Daniel Cardenas, the Peruvian chef who started Japanese-Peruvian fusion restaurant Nikkei, before moving to Nazca.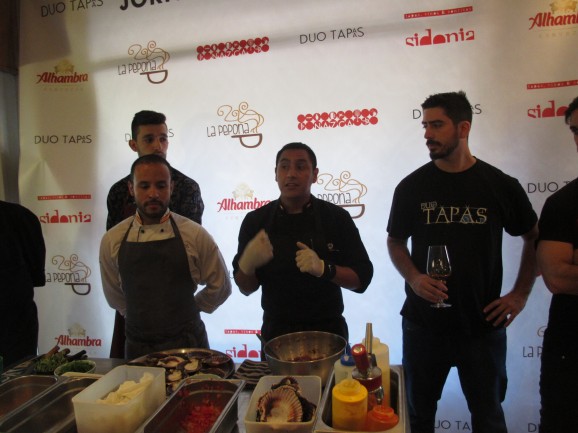 Peruvian chef, Dani Cardenas, of Nazca, with Juan Fortuna of Duo Tapas (right), explains the tapas he's going to create with the fresh tuna and ingredients from his native country.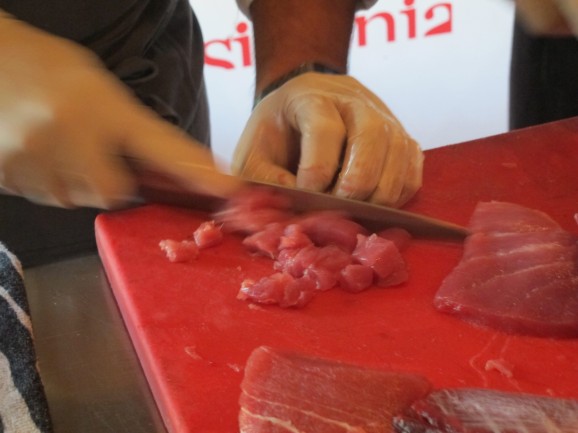 Dicing the tuna ventresca (belly).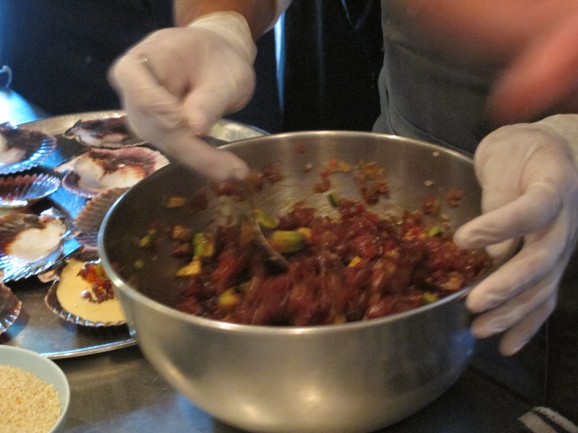 Mixing the tuna with avocado.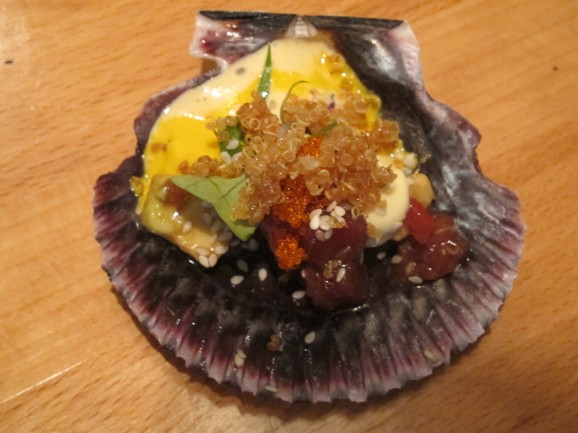 Colourful, delicious 'Tuna Nikkei' - blue-fin tuna belly with avocado, flying-fish roe, quinoa and leche de tigre.
Dani explained the ingredients he was going to use in his "Nikkei tapa", taking us on a journey around his native Peru: chilli from the
selva
(jungle); quinoa, a protein-rich grain from the Andes mountains;
leche de tigre
, the sauce used for ceviche, and
huevas de tobico
(flying fish roe), from the coast. The tuna was diced, mixed with avocado, placed in a scallop shell, and anointed with its exotic accompaniments, and the result was a colourful symphony of rich, complex tastes and contrasting textures.
Throughout the entire event, the atmosphere of excitement didn't wane - all the guests and staff were genuinely thrilled to witness this fascinating operation.
These are the tapas you can try at the four restaurants here in Seville, until the tuna runs out!
LA PEPONA (C/ Orfila,1)
- Tataki de lomo de atún con salteado de verduras
- Tartar de lomo de atún con guacamole y torta de trigo
- Morrillo, mormo o barriga a la plancha con…acaso importa
- Marmitako de cola negra
- Cola blanca con sopa Dashi
- Sashimi de ventresca con sunomono
- Tarantelo de atún con Ajoblanco de pepino
NAZCA (C/ Baños 32)
- Tiradito de ventresca con espuma de leche de tigre y crocante de quinoa
- Costillas de atún glaseadas con rocoto confitado y huacatay
- Carrillada de atún marinado en salsa de anticucho
- Chicharrón de tarantelo y adámame
DÚO TAPAS (C/ Calatrava, 10)
- Lomo de atún con alboronía andaluza y ajoblanco de anacardos
- Cola blanca con alga nori y panco
SIDONIA (C/ Calatrava, 16)
- Sashimi con aceite de romero y sal en escamas
- Tartar en concha con emulsión de ají amarillo