Everything always happens at once, doesn't it? In rapid succession, we've had
Semana Santa
, albeit largely cancelled due to incessant downpours; then the Royal Wedding, an event which captured the world with its unprecedented combination of pomp and circumstance as a Prince and heir to the throne got married, and intimate gestures as two people who love each other plighted their troth with eyes for noone but each other; now it's time for the
Feria
, which starts officially tonight.
Here in Seville we celebrated the occasion in an understated way, watching the ceremony on a big screen in an Irish pub in the city centre, while drinking glass after glass of cava, and munching on healthy canapes. This was followed by a delicious lunch, well lubricated with local wines, with a pause for The Kisses, and then a wedding cake. It was great being able to take in the whole build-up, and the ceremony itself, with other Brits; comparing opinions on the dress (well-received), Kate's composure (astonishing), the other leading players (Harry's hair, Pippa's figure), although I admit I was also checking out Twitter at the same time - essential for details about outfits and guests. Also it was great being served bubbly and nibbles (how often does that happen when you're watching TV at home?) - a bit of pampering which made it feel like a special occasion for us too.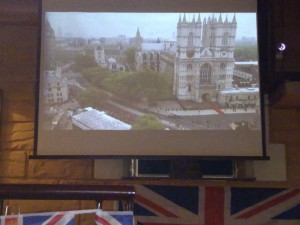 The Spanish press had plenty of coverage too, especially as there were eight Spaniards at the wedding, including Queen Sofia, Prince Felipe and Princess Letizia. Another high-profile and fashion-forward invitee was Liberal Democrat leader's wife, Miriam Gonzalez, who split opinions with her vibrant turban-flower-polka dot suit combo. Personally, I think she brought some much-needed flair to the occasion, as many wore boring sombre or pastel colours (step forward Mrs Middleton, Charlene Wittstock, fiance of Prince Albert of Monaco, and Victoria Beckham).
When it comes to the Feria, there will be no shortage of colour (hypocritically, I am opting for plain pale pink, no spots and no bright colours). Scarlet, acid green, deep purple, cerise - the Sevillanos like their shades hot, hot, hot. This year, the fashion is for teeny-tiny fabric pom-poms on the hem(s) of your dress - mine doesn't have these, as I bought it in the local market, so it's probably last year's stock and therefore woefully outdated in terms of style. Black, lace (Kate is so on-trend), and sleeves tight to the elbow then flaring out into giant frills are also in.
Our recent interviewee on andalucia.com,
Vicky Martin Berrocal
, went for a coppery-rose colour palette for her collection this year.
What a week for fashion watchers! If you are going to the Feria, don't forget your
complementos
(accessories): comb, flowers, earrings (dangly), necklace, shawl and
taca-taca
shoes for tapping out those
sevillanas
on the dance floor. Ole!