The Palmas logo - this one is Cuatro Palmas.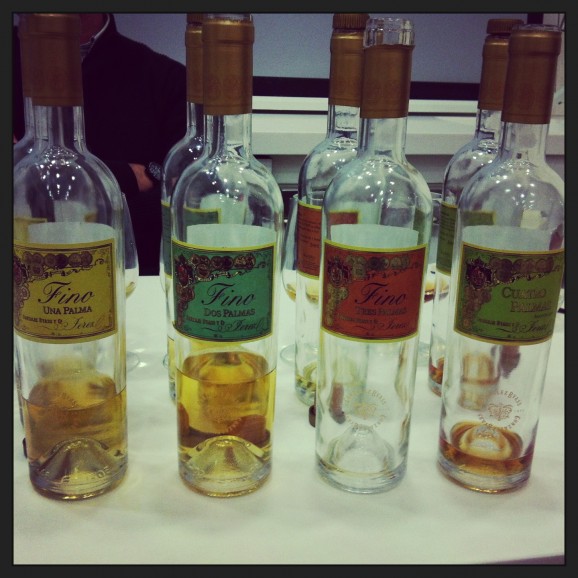 The Finos Palmas - from light Una Palma (left) to rich Cuatro Palmas (right). Tres Palmas was obviously popular.
Last week Tio Pepe launched its limited-edition
sherries
- four specially-selected wines which are chosen by tasting each barrel, and marking them with "palms" - from one palm to four palms - anything from one to three barrels out of a
solera
of 150 are chosen. One palm is a young
fino
, and four palms is an older
amontillado
. All part of the wine brand's mission to convince us that sherry is not just for Aunt Betsy to drink, lukewarm, before Sunday lunch; in fact sherries are nuanced, versatile and extremely high quality wines. All the Finos Palmas, a special edition now in its third year, are noted for their elegance and character.
I went to a tasting held at a cooking school in Seville, with a huge screen showing events as they unfolded via live-streaming from
Gonzalez Byass
in Jerez. This is the bodega which produces Tio Pepe, and we could see a beautiful dining room, with a grand table - long, heaving with glassware, and surrounded by wine-industry luminaries.
The event was hosted by Antonio Flores, Master Winemaker at Gonzalez Byass. Antonio had chosen the barrels which would be bottled as Finos Palmas, along with British Master of Wine Sarah Jane Evans. He called on Sarah Jane, as well as
World Sherry Day
organiser Chelsea Anthon, to give their verdicts on the sherries, in addition to getting feedback from simultaneous tastings in Madrid and other cities.
I was fortunate enough to taste another limited-edition sherry back in April -
Tio Pepe en Rama
, which is bottled straight from the barrel without being filtered. This
cata
at a riverside restaurant in Seville was where I first met the famous, magnetically charismatic Antonio. He talks about sherry the way most Andalucians talk about women - with passion and poetry.
At
a subsequent tasting
, also in Seville, a group of food bloggers was guided by Señor Flores, whose Twitter handle is @hacedordevinos (Winemaker), through ten sherries. After a long, busy and extremely hot day, I found it hard to keep up; the learning curve in terms of different types of sherry, aromas and flavours, was too steep.
At this tasting, Antonio was in Jerez and could only be seen on screen, so the personal touch was lacking, although understandably since Jerez is the home of sherry. (I loved his comment that sherry is like perfume - it smells and tastes different for everyone.) On the other hand, with only four wines to taste, we were less pressurized in terms of time. Unlike with the ten-sherry marathon, we had the all-important tasting notes, and could savour and consider each wine before moving on to the next.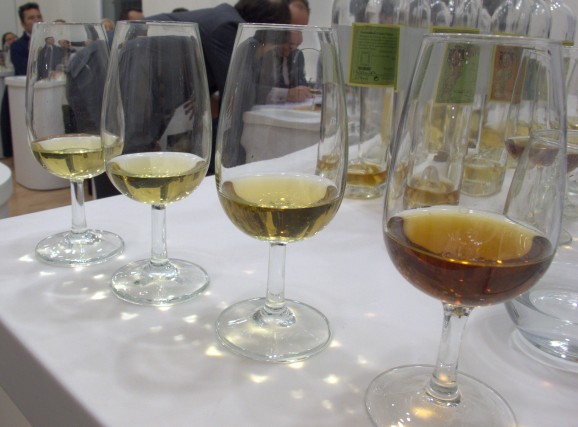 Four glasses of exquisite sherry - from fino (left) to amontillado (right).
The four glasses were lined up, with a gentle colour progression from pale straw to dark amber.
Una Palma
was a typical
fino
- dry, fresh and slightly acid; for me,
fino
says
Feria
. I learned that the Una Palma has the most
flor
, or yeast, as it's the youngest wine - only six years old.
Next was
Dos Palmas
, a darker yellow, and smoother than the first; it is eight years old. I wrote down in my notebook (note: I am not a wine expert) "honey, grapey, summery". The third sherry,
Tres Palmas
, was my favourite - an old gold colour, with some oak (you can tell I came of drinking age in the 1990s) - "dry, elegant and persistent" according to the official tasting notes. What admirable characteristics, either for a wine or a person.
My notes say "sweet-sunny, sharp in the mouth, chalky. Most complete taste". Not entirely sure what I meant there either, but you're supposed to say what occurs to you at the moment, right? This sherry was defined as a
fino-amontillado
, at least 10 years old.
Finally came the oldest,
Cuatro Palmas
, considered by many at my tasting and elsewhere to be the king of this quartet. The tasting notes said aromas of cedar and tobacco; mine said whisky and raisins. This was a strong sherry - not a light, chilled before-dinner
aperitif
, but rather a full-bodied dram to enjoy at your leisure
sobremesa
. At 45 years old, it is marginally more
ancient
mature than this blogger, and also by far the most expensive. The first three all cost less than 30 euros.
You can watch the whole video of the streamed tasting here - ideally, with your own bottle(s) of Finos Palmas. As you will see, there were some technical hitches, notably delays problems with sound quality and delay. But in spite of this, Tio Pepe is to be applauded for bringing sherry to the wider world through technology - leading the sherry industry into the 21st century.