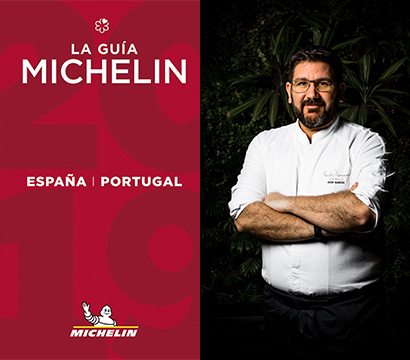 Guia Michelin España Portugal 2019 - Dani Garcia.
First Michelin stars for Jerez and Jaén, and three-star chef Dani Garcia makes shock announcement
Jerez and Jaén each now has a Michelin-starred restaurant, Lú Cocina y Alma and Bagá respectively. Both have exciting tasting menus, offering largely local, seasonal produce prepared and presented innovatively as you'd expect.  
Lú Cocina y Alma, Jerez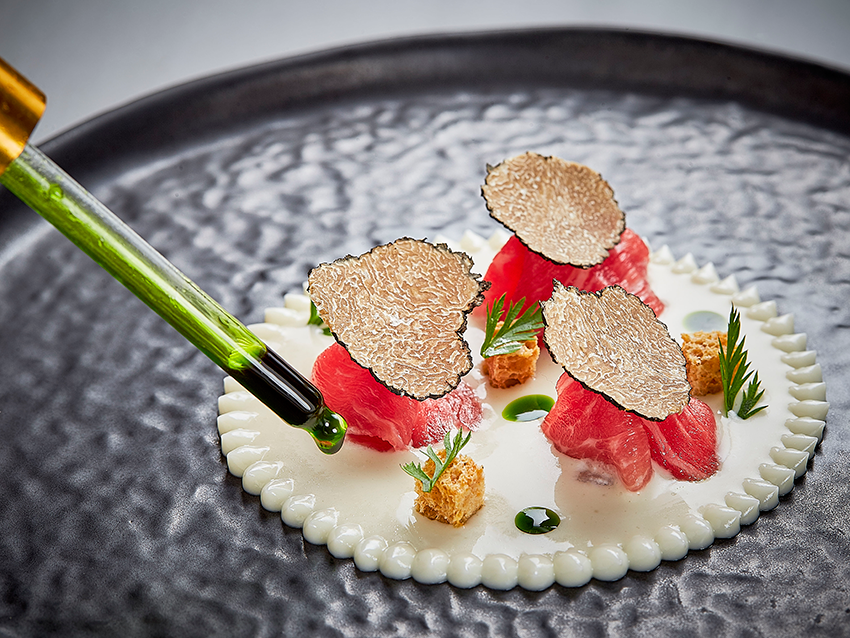 Juanlu, the chef-owner of LU in Jerez, uses traditional French sauces in his dishes.
Lú is the brainchild of Juanlu Fernández, who previously worked as Angel León's head chef at three-Michelin-star Aponiente for ten years. The restaurant only opened in December last year, but soon gained a reputation for quality and flair. He is an aficionado of French cooking, particularly the sauces of Escoffier such as bechamel and hollandaise - one of his dishes is squid with hollandaise of its own ink, while another is Bresse duck in perigourdine sauce. Diners can choose to pair their meal with selected wines, which naturally include some Sherries.  
Bagá, Jaén
Bagá is an intimate restaurant in Jaén.
  Bagá, located in the San Ildefonso barrio of Jaén, seats just 15 diners and is named after the Arabic word for the flower of the olive tree. This is apt for a restaurant in the capital city of a province whose economy is based around the fruit. Chef-owner Pedrito Sanchez Jaén works in a minimal kitchen space measuring 6m2, equipped only with an induction plaque, a microwave and a Thermomix. Previously he worked with Dani Garcia, who this year earned his third Michelin star for the eponymous restaurant in Hotel Puente Romano. Pedrito is keen for his clients, especially those who choose to eat sitting at the restaurant's small bar, to have a direct connection with the kitchen staff. Dishes at Bagá include kidney of mild-fed kid with caviar, and gazpachuelo of sea anenomes, with many featuring the local "liquid gold", as olive oil is known.  
Dani Garcia, Marbella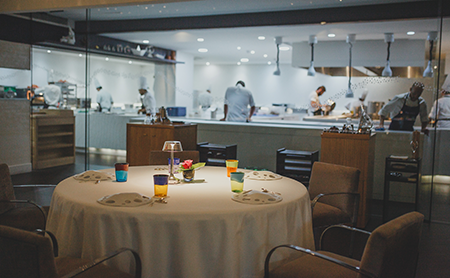 Dani Garcia will close its doors for good in October 2019.
  On 18 December, Dani Garcia announced to his staff, and then communicated to the wider public using a video of this meeting published on Instagram, that on 22 October 2019 he would be closing his restaurant in the Hotel Puente Romano. His shocking and completely unexpected decision came 22 days after winning his third Michelin star. The gourmet alta cocina restaurant will reopen as a steak house serving burgers costing 15-20 euros shortly afterwards, part of Dani's commitment to quality cuisine for all audiences and budgets, and to raise the level of the mid-range restaurant sector. In an interview with La Vanguardia, 42-year-old Dani described the high emotion of winning his third star: "You already know that you will never taste a better flavour than that one, because you will not win three stars for the first time in your life."
On opening more Michelin-star restaurants: "I do not see myself replicating Michelin star restaurants; I don't imagine myself giving everything I've got to have another restaurant with the highest score, at least in the next eight years. I prefer to focus my life on something else, because the taste of the three stars is going to stay there all my life and it is without a doubt the most beautiful thing that has ever happened to me in my professional career." On other future plans: "We need to create a couple of other concepts which I think would work, one of meat, and the other of tapas for 20 euros, as well as continuing to grow the Bibo formula. Next year we will open in Qatar, and we have exciting possibilities of opening in other places too: London, Dubai, and Barcelona - I'd love that."