On Friday 17  April Andalucia.com celebrates 
its 19th birthday
- the website was founded by Chris Chaplow on 17 April 1996.
Andalucia has established itself as the leading website about the region, with visitor statistics which have grown exponentially, as southern Spain is a consistently popular destination for English-speaking visitors who want reliable, comprehensive, up-to-date information.
Over the past year, the English version has had over
10 million page views
,
with 4.2 million visitor sessions 
and
3.1 million users
. Our Alexa ranking is
52,143
.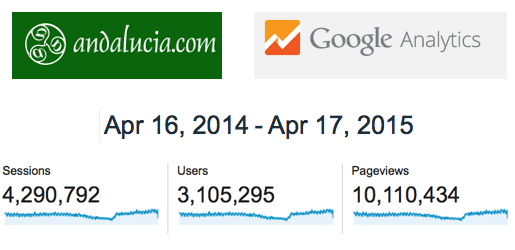 Google Analytics for Andalucia.com
Andalucia.com is staffed by a varied group of people whose passion for the region is equalled only by their dedication to providing the best and most incisive details about all parts of southern Spain. The writers on our site are respected professionals, experts in their areas, published in the British and international press.
So if you're planning a trip to this fascinating and varied part of Spain, you know where to go - with 10,000 pages we have more data on Andalucia - its beaches, cities, history, fiestas, parks, gastronomy and produce - than any other website.
Consolidating our established position as the most respected site in this field, we look forward to a bright and exciting future.
Our celebration on 19 April will be a low-key event, but we are already making plans for a big 20th birthday bash!
Read more about our
19th birthday here.