Andalucia.com was founded on 17 April 1996
Andalucia.com was founded by Chris Chaplow in 1996. On 17 April 2015 the website celebrated its 19th birthday.
Southern Spain's most-visited English-language website (with shorter versions in 12 other languages, including Spanish) has come a long way since its humble beginnings of one man and his modem.
In the past year Andalucia.com's English version has received over 10 million page views, with 4.2 million visitor sessions and 3.1 million users.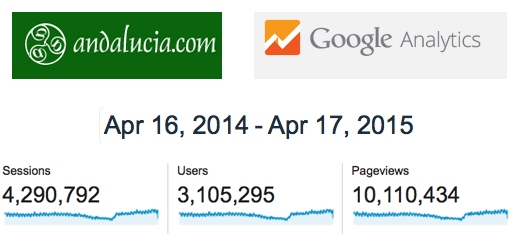 Google Analytics for Andalucia.com
AC is ranked 52,143 on Alexa, out of 930 million total websites.
We asked Chris what he would attribute AC's success to - during his 19 years of running the website, its founder and managing director and has seen first-hand all the highs and lows of Spain's rollercoaster economy.
His response was: "As an engineer, I have always looked on this as a huge construction project. We have built 10,000 pages so far, and we are still only at just at the beginning."
"Keep focused on the project all the time, day and night, 24/7," is the recommendation of AC's founder.
Andalucia.com is staffed by passionate professionals from a myriad of different backgrounds and interests, with one thing in common - all are dedicated to maintaining the high standards that the website's visitors have come to expect. This team-based approach is the backbone for the site's continued success. Every member of our staff has a passion for Andalucia, and we believe that this shows in our product.
We are hugely proud of what we have created - the most comprehensive guide to this fascinating and varied part of Spain, from hotels to horse-riding, and from car hire to cooking.
All our text is original and exclusive to the site, written by professional journalists who are specialists in their field, illustrated with professional photos. Everyone has an in-depth knowledge of the region, whether native or adoptive Andalucian; we have expert writers in many areas.
We have helped many thousands of foreign tourists discover every corner of Andalucia - the site is very popular for researching holidays, with almost every town in the region documented - and helped hundreds of local businesses promote their services.
Our celebration on 17 April will be a low-key event, but we are already making plans for a big 20th birthday bash!