Andalucia.com - founded on 17 April 1996 - celebrates twenty years
Andalucia.com, the most-visited and longest-established website about Southern Spain, celebrated its 20th anniversary on 17 April 2016. The anniversary was  marked by a special day featuring treasure hunts, presentation and lunch in Estepona and Casares (Malaga). Look out for #20andaluciacom on Social Media.
Twenty years ago, the Internet barely existed in people's lives. Businesses showed little interest and it was the limited field of a few academics. Only techies could foresee the future potential of universal Internet access. Yahoo! could only return 56 pages on Spain, and the category Andalucía didn't even exist.
Chris Chaplow, a former Civil Engineer from Manchester, moved to Spain in 1991, and founded Andalucia.com because he recognised the need for an online reference guide to Andalucía. He was able to call on the thousands of images of Andalucia from his partner Michelle Chaplow's physical photographic archive, the Andalucia Slide Library.
The project started as a labour of love from Chris' home office. The key to early website success was in the mission to offer 'clear useful information about Andalucia for the international traveller, tourist and resident'.
By the late 1990s there was lots of competition among websites, but after the dotcom boom "Competitors lost interest because advertising revenue wasn't forthcoming. Knowing that you can't have advertising without circulation, it was a question of just keeping going and building up content. Collecting information by exploring Andalucía at weekends was not exactly a hardship, anyway!" recalls Chris.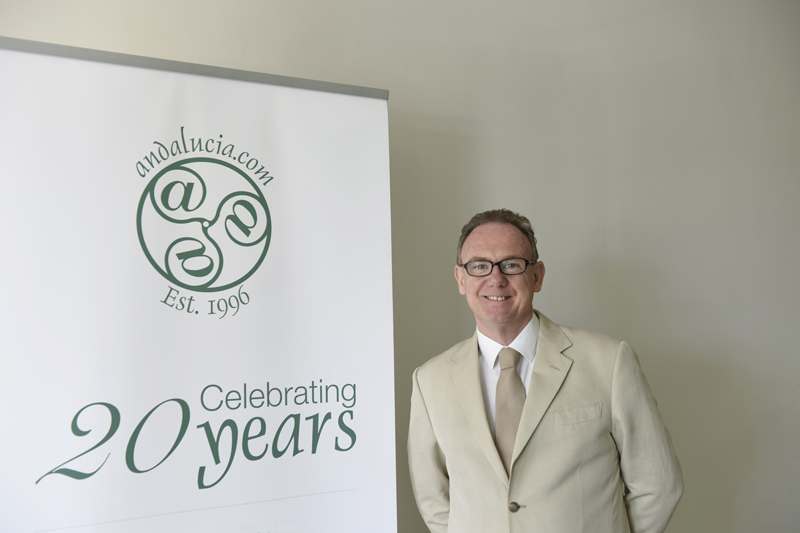 Andalucia.com received a boost with the inaugural Business of the Year Award in 2006 from CADE in Marbella, a business support agency of the Junta de Andalucia.
Andalucia.com continues to grow and now has 10,000-plus pages of information and receives half a million visitors each month, with one and a half million pages read. It is the most-visited website in English providing information on Spain.It has a certified Alexa ranking of 58,000.
Thousands of people have been inspired to visit this beautiful, historic and fascinating region after visiting the site.
Chris Chaplow says: "None of this would have been possible without the loyalty of our visitors, clients and staff, to whom we are extremely grateful. We're very proud of our success. There is no secret recipe - just hard work, long hours and a dedicated determination to keep adding more and more information, and returning to improve and enhance the existing content even when not commercially viable. We're here to stay and are very much looking forward to the next 20 years."
A copy of the Treasure hunt questions and photos of the teams at the event are published here for Estepona, Los Corominas, Casares, Venta Garcia   
Search the hashtag #20andaluciacom on Twitter.
Interview on Estepona Television
Report by Estepona Television on the 20th Anniversary
Interview in El Mundo
El Mundo Interview with Chris Chaplow by Berta de la Vega published on the 20th Anniversary.

See also the Andalucia.com Blog post by Fiona Flores Watson reporting on the 20th Aniversary event.