If you are planning a visit to Seville once the intense summer heat has dissipated, then you may be pleased to hear that, from this autumn, two important historic monuments with aristocratic heritage will be available to visit for the first time. One is the
Palacio de las Dueñas,
 the home of the late
Duquesa de Alba
, who was Europe's most-titled noble and a familiar face in the city. Cayetana Fitz-James Stuart possessed numerous properties all over Spain - from city palaces and castles, to country estates and seaside villas; it said that you could cross the country from end to the other without setting foot off her land. But the Duchess's favourite, especially in her later years, was her 15th-century palace in the heart of Seville.
Duquesa de Alba celebrated her wedding to Alfonso Diez at the Palacio de las Duenas, with press and adoring crowds packed into the street outside her gates.
This is where Cayetana spent her final hours surrounded by her family, before passing away last November; in happier times, it is where she celebrated
her third and final wedding
, to Alfonso Diez, with adoring crowds packed into the street outside her gates. The 80-something bride ventured outside with her new husband to dance for the delighted throng. Sevillanos were, and indeed continue to be, fascinated and intrigued by this colourful woman, of highly aristocratic birth yet of the people. Cayetana was a larger-than-life character, rarely out of gossip magazines and TV programmes, ceaselessly commented on for her unconventional fashion sense, her family's foibles and her unending appetite for travel. She was also a passionate devotee of Seville's most emblematic events and traditions - bullfighting, flamenco, Semana Santa and Feria - right up until her death.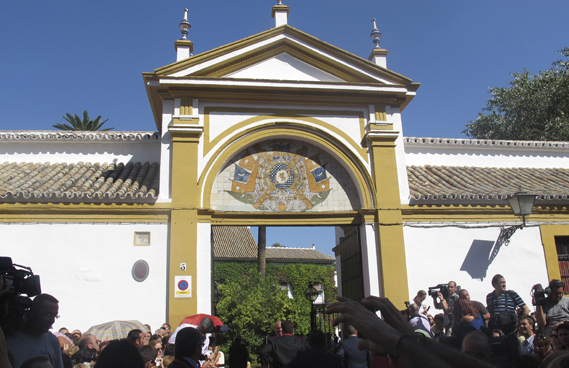 Entrance to the palace, which dates from the 15th century and has an impressive art collection.
So the opportunity to see inside her home, to look at her furniture, photographs, and other personal items, will be grabbed with great enthusiasm and excitement. The palace's art collection extensive with important 19th and 20th-century Spanish paintings, as well as a watercolour painted by Jackie Kennedy when she visited, plus works by the Duquesa herself, who was a keen artist and found great solace in her painting.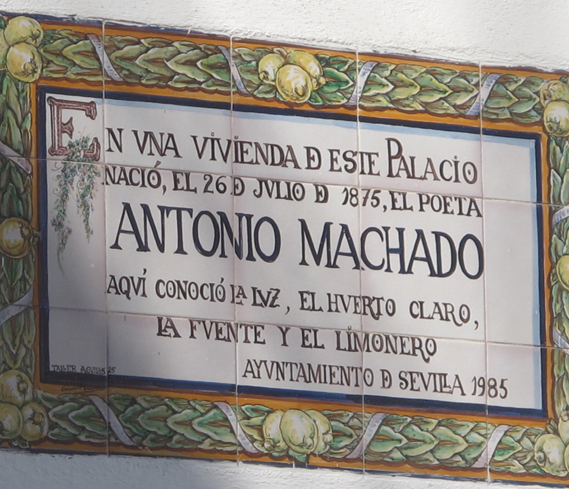 Tiled plaque commemorating the birthplace of poet Antonio Machado.
In addition, the palace is the birthplace of the much-loved Sevillano poet,
Antonio Machado
, who famously wrote: "
Mi infancia son recuerdos de un patio de Sevilla
y un huerto claro donde madura el limonero
..." "My childhood memories are of a patio in Seville and a bright garden where a lemon tree grows..." The palace is scheduled to be opened to the public in October. Watch this blog and
our Facebook page
for more details.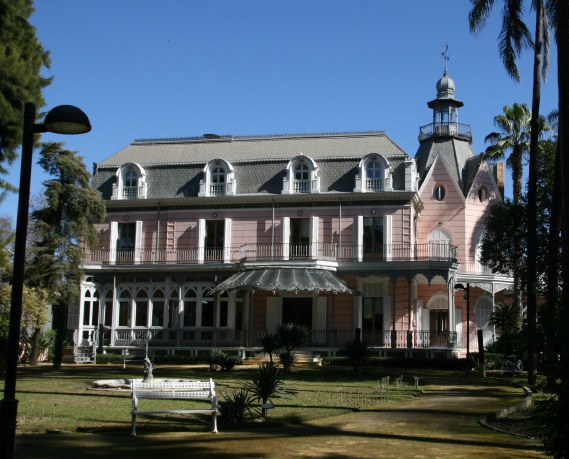 Casa Rosa, the latest attraction you can visit in Seville this autumn.
The other is the
Casa Rosa
, a pretty, candy-pink French-style villa with magnificent gardens at the far end of
Parque Maria Luisa.
Itinerary for visit to Casa Rosa´s gardens - starting at the house, point 2.
The house was part of the vast estate of
Palacio San Telmo
, the palace which is currently used as the offices of the Junta de Andalucia's President. The palace was occupied in the second half of the 19th century by the Duke and Duchess of Montpensier (he was French aristocracy, she was a Spanish princess; they were cousins), who created an estate, comprising gardens, orchards, and hunting grounds, which stretched as far as Plaza de Americas (built subsequently for the
Exposicion Ibero-Americano 1929
). A large part of the Montpensiers' San Telmo estate was converted in Parque Maria Luisa in 1914, and the park was chosen as the site of the Expo 29. The Dukes built Casa Rosa for their tailor, Juan Cruz, in 1880; it was extended in 1894 by the Marchioness of Angulo, who named it Villa Eugenia, and again in 1927, as part of the urban reorganisation for the 1929 Expo. In the 1990s the Junta de Andalucia carried out a refurbishment, and a decade later Casa Rosa stood in as the temporary offices of the Junta President while Palacio San Telmo was restored. Villa Eugenia/Casa Rosa brought a new style of architecture to Seville, with its rectangular shape, mansard roof, look-out tower and Art Nouveau entrance canopy. These late 19th and early 20th-century features blend with the mudejar-style
azulejos (ceramic tiles)
for which Seville is famous, made just across the river in Triana. Situated at the far end of the original San Telmo gardens, beyond Plaza de Americas between Avenida de las Palmeras and Avenida Manuel Siurot, now-named Casa Rosa has been described as a "
joya romantica
", a romantic jewel. In the gardens, which are shaded by scores of tall palm trees, you can see 100 botanical species from five continents, across a 7000m2 area. The visit will follow a set route, taking in the house's patio, pond, aviaries, and old stables and zoo. Casa Rosa and its gardens will be open for guided visits from 7 October. To book a visit, click
here
.