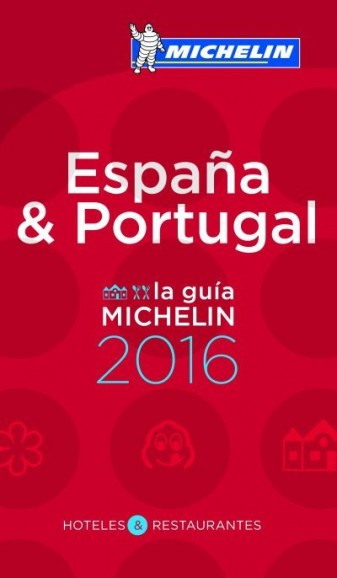 The latest edition of the gourmet bible, Michelin Guide to Spain and Portugal 2016, was published on 25 November.
The new Michelin guide for Spain and Portugal, 2016 edition, has been published, with four new stars for Andalucia: three in Malaga province, and one in Huelva. All the newly starred establishments in our region are either on, or close to, the coast. One of Andalucia's most luxurious and beautiful hotels,
Finca Cortesin
in Casares (just inland from Estepona), wins a star for its restaurant
Kabuki Raw
which serves avant-garde Asian-fusion dishes including sushi and tartars of local fish and seafood but also grilled pigeon. Those who are lucky enough to have visited, or stayed at the hotel, will appreciate its impeccable standards in everything from interior design to service to cuisine. In Marbella, known as much for the excellence of its dining as its glamorous beach-goers,
Messina
offers contemporary Mediterranean with an Asian touch. The popular beach resort of Fuengirola, also on the Costa del Sol,  hosts Diego Gallegos'
Sollo -
the Brazilian, who won Chef Revelación at Madrid Fusion this year, is known as the "Chef de Caviar".  
Presentation by Xanty Elias and the designer of his restaurant, Acanthum at the Andalucia Sabor conference.
And over to the west of the region, close to the Portuguese border in the port city of Huelva, is
Acanthum
, where chef Xanty Elias creates innovative fish dishes. While I haven't yet had the chance to visit the restaurant, I did see a presentation by Xanty and the designer of his restaurant, Granada Barrero, at the excellent regional food exhibition and conference,
Andalucia Sabor
, in Seville back in September. While Granada explained about the customer experience which she had designed using creative sensory workshops, Xanty whipped up hundreds of bite-size portions, which were handed out among the audience on little tasting spoons. I tried the
choco
with yoghurt; the cuttlefish was spicy with a slightly strange taste, to me, while the thick, creamy yoghurt was a perfect match. He also showed us dehydrated skate skin, which he fries like pork rind to make crunchy scratchings. And we witnessed Xanty's take on
ensaladilla
(potato salad), one of my personal bête noirs of Spanish cuisine. Often made with inferior mayonnaise, his suggested ingredients were potatoes, prawns and
melva
(from the tuna family). His presentation was
espuma
(foam) of mayonnaise, with pureed potato but avoiding that heavy, starchy gloopiness - a great combination of textures. Sadly I couldn't stay to try this, due to time constraints, but I'm sure it was delicious. Andalucia's status as a gastronomic destination continues to rise - from markets to food fairs to
top-end restaurants
with innovative flair to make Ferran Adria proud, this is a region with first-class ingredients, from land, river and sea, where eating has always been a crucial part of everyday life, an essential element to be savoured and enjoyed, with family and friends. Now our restaurants are receiving international attention, with many visitors attracted largely by the gourmet offering.  One of the reasons why we love Andalucia so much! Last year the we reported on the
2015 Michelin guide
.