Andalucia Sabor is on 16-18 September, in Seville. Its theme this year is tapas.
As I mentioned in last week's post, a cause for celebration in Andalucia - especially in these troubled times - is its wonderful gastronomy, now
de moda
in London, New York and beyond, thanks to chefs like Dani Garcia of two-Michelin-starred
Calima
(Marbella), and, in the UK, Omar Allibhoy of Tapas Revolution.
Andalucia Sabor
is a gastronomy fair held in Seville - the
last one
was two years ago, in 2011. This year's edition, the fourth, takes place on 16-18 September in FIBES, the newly-extended exhibition centre to the east of Seville's city centre, which now has 5000m2 of space. The exhibition's subtitle is: "The tapa: tradition and innovation in Andalucian cuisine" - most appropriate to the location, as Seville is where the tapa was invented. This year's invited guest country is Brazil.
This gastronomic extravaganza aims to showcase the finest of
Andalucia's wonderful produce
, from jamon and honey to olive oil and wine (sweet wines of Huelva and Malaga, sherry from Montilla-Moriles and, of course, Jerez). The region's
olive oil
has been in the spotlight recently, with a staggering nine out of ten of the world's top olive oils coming from Andalucia.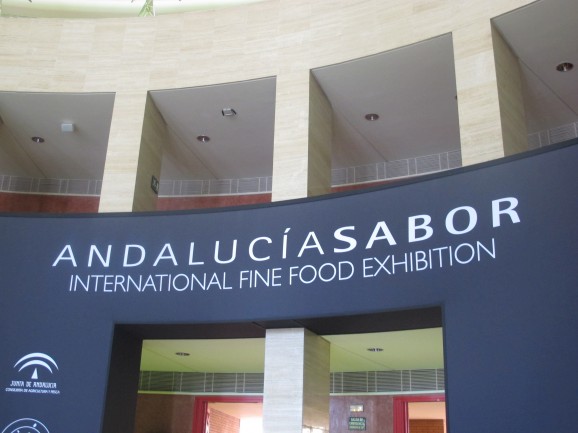 The last edition of Andalucia Sabor, in 2011, had over 5000 professional visitors.
Andalucia has a number of DOs (Denominacion de Origen) for food and wine, in addition to those mentioned above, including raisins from Malaga, asparagus from Granada, and vinegar from Jerez, Huelva and Cordoba. Another recognition is the Denominacion de Calidad, which includes many of these foods and wines, along with organic foods, which are fast gaining ground in Andalucia.
One of the most enjoyable aspects of these fairs - for me, at least, but I'm sure for many others too - is meeting the producers themselves. In many cases these are family companies, often second or third generation, built up over decades through hard work and love, and the characters behind them have great stories to tell. Of course - this is Andalucia, where everyone has a story to tell. Chatting to someone about their honey bees, or goats, or vineyards, where they live or grow and what they feed on, and how long the company has been producing this particular delicacy, can reveal a surprising amount about what makes their own honey, or cheese, or wine different, special, worth tasting.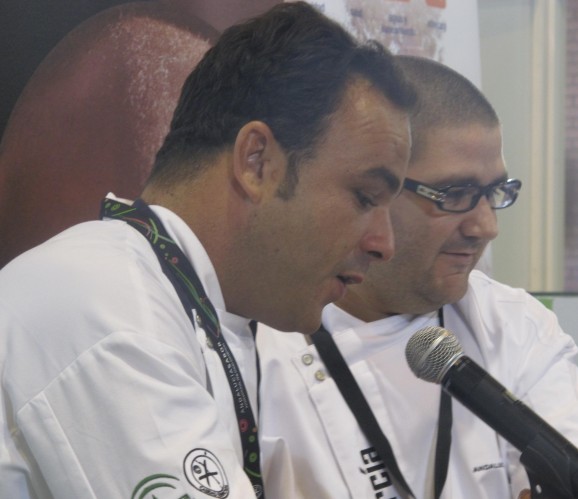 Angel Leon and Dani Garcia at Andalucia Sabor III, in 2011.
You will also be able to see Andalucian chefs doing demonstrations, including the celebrated
Dani Garcia
, most recently restaurateur of New York's hottest Spanish eaterie, Manzanilla.
The full programme of events hasn't been released, but you can be sure there will be lots of great discussions and workshops, as well as a
conference
featuring top Andalucian chefs, including
Angel Leon
of Aponiente (El Puerto de Santa Maria),
Xanty Elias
of Acanthum (Huelva),
Willy Moya
of Poncio (Seville), and
Celia Jimenez
of Bodega Campos (Cordoba).
If you work in the food business, and you live in Andalucia, then this is one event you shouldn't miss.
** Please note that while the conference part of Andalucia Sabor is open to the public, the exhibition is for professionals only - restaurant owners, food producers, press, and - of course - food bloggers.