Next week one of the most hotly-anticipated new attractions in Seville opens its doors - the
Palacio de las Duenas
, favourite residence of the late
Duquesa de Alba
. From 10am on Thursday 17 March, you'll be able to see inside the home of one of Spain's most famous aristocrats, the most titled woman in the world, and the owner of one of the most important private art collections in Spain. She passed away in November 2014, and this palace is now the official Seville residence of her son, Carlos Fitz-James Stuart y Martinez de Irujo, the 19th Duke of Alba. Contrary to many press reports that Carlos' son and heir, Fernando, inherited it from his grandmother the Duquesa when she died, the Duke of Alba is the owner of Palacio de las Dueñas. The building itself is of considerable architectural interest, dating from the 15th and 16th centuries, and built in Mudejar style on the site of the Casa-Palacio de los Pineda, another aristocratic Sevillano family - some parts of this can still be seen, such as the Mudejar arches in the original patio. The palace is named after the Monasterio de Santa Maria de las Dueñas, which was located next door and was demolished in 1868. The artworks you'll be able to see include priceless historic paintings, sculpture, tapestries and furniture. Some of the most valued pieces are
Santa Catalina de Siena entre Santos
, a 15th-century work by Neri de Bicci in the chapel (above left), and
La Epifania
by Giordano in the Salon de la Gitana, one of the Duchess' favourite rooms, where you can also see a bronze sculpture of a gypsy by Mariano Benlliure. In addition the porcelain collection has pieces by Sevres, Meissen and La Cartuja de Sevilla,while the patio has archaeological treasures from the Castillo del Carpio as well as an Iberian lion.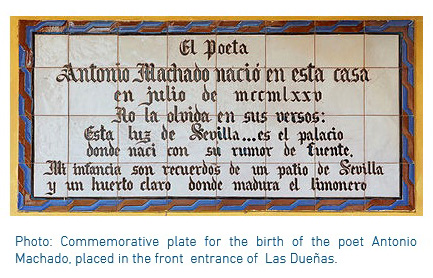 Also of great interest is the Patio del Limonero - the poet
Antonio Machado
, who was born in the palace in 1875, wrote these much-quoted lines: "
Mi infancia son recuerdos de un patio de Sevilla,
y un huerto claro donde madura el limonero
." My childhood memories are of a patio in Seville And a bright orchard where a lemon tree ripens. From
Retrato
(Portrait) by Antonio Machado Illustrious visitors to the palace have included hispanophile Lord Holland, Edward VIII and George VI, Alfonso XIII, Wallis Simpson, Cole Porter, Jackie Kennedy, Grace Kelly and Prince Rainier of Monaco.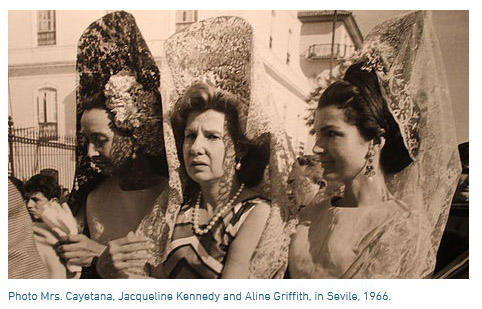 The Duquesa owned a number of magnificent private residences around Spain, from palaces and castle to villas, but this palace was always her favourite. She said she felt most at home in Seville, being a huge aficionado of local festivals such as Holy Week, the Feria de Abril, and bullfighting. The Sevillanos reciprocated with warmth and affection which was demonstrated by the turn-out when she lay in state in Ayuntamiento - 80,00 people came to pay their respects. And now they can see behind the gates, inside the salons of the palace where this intriguing, eccentric woman lived right up until she died - even if the entry price might be out of the reach of some.
The palace will be open daily from 10am-6pm October to March and 10am-8pm April to September. Tickets cost 8 euros for adults, and 6 euros for children aged 6 years and over, plus 2 euros for the audio guide (English, French and Spanish). You can buy them online from the Palace's own website or from a soon-to-open ticket office at the palace itself. Entry is free on Mondays from 4pm.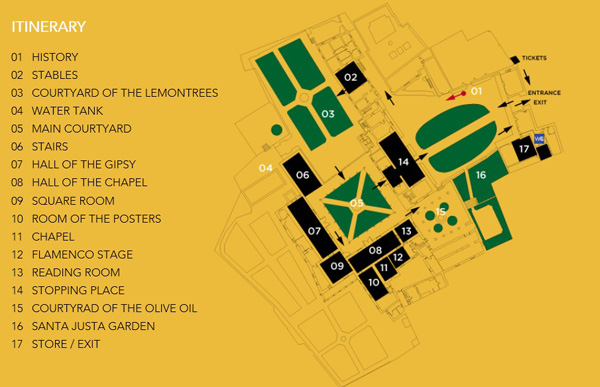 Palacio Las Dueñas - Floor Plan