If you know Seville, whether as resident, past or present; regular or occasional visitor; or just as somewhere you've read about and would like to go to, you'll no doubt be aware of its rich
history
. Like other Andalucian cities, it has been inhabited over the centuries by Phoenicians, Romans and Moors. Now you can see, first-hand and in tangible form, something of this varied past.
Situated in the basement of
Metropol Parasol
, the recently inaugurated massive wooden structure in the centre of Seville which I have
blogged about
lots lately, is a new museum called Antiquarium, which opened a couple of weeks ago, at the same time at the
Pasarela and Mirador
. I blogged about
my first visit
here, back in March, when it was still being finished.
On that occasion, they gave me a guide, with the same cover design as the posters advertising the previews. As this guide has blurb from the Mayor, they can't use it at the moment because it counts as political material, banned in the pre-election period (elections are on 22 May, this Sunday). So I was lucky enough to be able to use the guide on my visit yesterday. There was no other material available to visitors, no leaflets or guides, nothing. The individual areas of remains are not even labelled, there is no signage of any kind (yet), just the information points (TV screens), some of which offer general information about the museum, others background about their specific area of remains, or house.
Without the plan of the ruins, I'd have been lost. Here it is. You can see it on the screens at the information points dotted around the museum (not all of which work; those that do are excellent, with VR recreations and fascinating background detail and descriptions). But I like having a guide in my sweaty paw, so I know where going and what I'm seeing.
So what can you see? There are
salazones
(fish-salting vats, I on my plan), square holes in the ground which have water in them as they're below the water table (a bit whiffy - take note Antiquarium). You can find out which fish were regular fixtures on Roman menus in the 1st century BC - hake, sardines, bream, mackerel... the average 21st-century Sunday barbeque at my house.
There's a stone "table" with various different-sized holes and indentations, which was used for games, called a
tabula lusoriae
. Apparently these were very popular with the Romans.
But the main focus is on the houses and their magnificent (if not perfectly preserved, sadly) mosaic floors. The two main stars are the kissing birds, used as the museum's logo (apparently the Mayor gave Prince Charles a replica of this on his visit to Seville last month), and the Medusa. The former has been pieced together - now that must be one hell of a painstaking job - and is displayed on the wall, while the latter can be seen on the floor, and is one of the exhibits which has great background information, about the snake-haired god and other representations of him which have been found around Spain. Andalucian encarnations include the Ayuntamiento of
Carmona
's patio, and also in the nearby Roman city of
Italica
. Medusa's colours are amazingly well-preserved: two of his serpent-locks are still bright blue.
There are various houses, of which you can see central patios with columns, and walls, including some rooms such as the
triclinium
(dining room). Almost all the houses have part of their floor made of mosaics, in intricate, colourful geometric designs with knots, squares and crosses; look out for the goblet in Casa de Baco (V on my plan; a party house, for sure, Bacchus being the God of Wine), and the wreath in Casa de la Columna (VII on my plan, near the back of the museum).
[caption id="attachment_3058" align="aligncenter" width="247" caption="Laurel wreath detail in Casa de la Columna.a>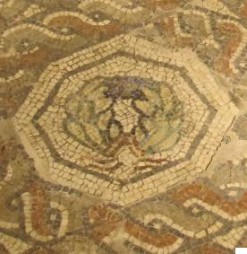 [/caption]
The Almohad house, Casa de la Noria (XI on my plan), which dates from the 12th century, has no explanation (yet). But one of the most obvious omissions is that all the glass display cabinets are empty. There is not one piece of Roman pottery or jewellery, of all that was found when the houses were discovered back in 2003 (a car park was going to be built here; Seville has layers of history under every street, and any
obra
has cultural implications - just dig down a few metres and you'll find Moorish or Roman remains).
Plans afoot for the museum are many and varied: a shop, whose space is allocated and ready, complete with a Roman house (II on my plan) with mosaics under its glass floor; seminars and conferences in a space with its own separate entrance; educational programmes for school groups; and to bring here one of Seville's greatest archaeological treasures: the Carambolo a collection of Phoenician jewellery from the 6th century, currently housed in the
Archaeological Museum
.
For now, entrance to Antiquarium is still free, although that could change next week - who knows? The (very helpful) staff certainly didn't. The idea is to sell tickets which also include the
Alcazar
, a "global tourist product" which forms part of the Ayuntamiento's Project Cardo, according to my invaluable guide. As part of Metropol Parasol, with its concert space (open, and being used as a rallying point for the new political movement, Democracia Real Ya), ground-floor and skyview restaurants (not yet open), market (open) and walkways and viewing points (open - go see!), it adds a down-to-earth, historical dimension to an avant-garde architectural project which will surely draw many new visitors to the city.