A British royal visit to Seville
Last Friday (01-04-2011), we had an official Royal Visit here in Seville. Prince Charles and the Duchess of Cornwall came for a short trip, as part of their Spring Tour, to promote business interests; they were in Portugal before coming to Madrid last week, and today arrived in Morocco.
Charles and Camilla met osé Antonio Griñán, the president of the Junta at the 17th-century baroque Palacio San Telmo, which is his official headquarters; they took the tram from the San Fernando stop to Plaza Nueva; they met the Mayor, and discussed sustainable transport; and they visited the Reales Alcazares and the cathedral.
During their four-hour whistlestop tour, they were presented with a book on the Altar Mayor of the cathedral (Charles was, apparently, particularly taken with the Choir), some bitter orange marmalade, two bottles of olive oil from Jaen, a replica of the Roman bird mosaic used at the logo for the Antiquarium archaeological museum under the Metropol Parasol, a fan with flowers on, and a turquoise manton (fringed shawl).
Charles met local leading business people, including the MD of our very own andalucia.com (pictured above) he told me it was 95% men), while Camilla went to a flamenco show, to which I was also invited. It took place at the Museo de Baile Flamenco, the museum owned by Cristina Hoyos. After the performance, Camilla was presented with the turquoise manton, typically worn with a flamenco dress, by the museum's director, and then she posed for photos on stage with the dancers and musicians (see photo, top). The Duchess also bought flamenco outfits for her grandchildren at the museum shop.
In the meantime, Charles visited the Airbus Final Assembly Plant, where he met British engineers working on the A400M military transporter planes. At this stop on the royal itinerary, the Prince of Wales was presented with the aforementioned olive oil by the regional minister for Economy, Innovation and Science. A ground-breaking example of high-tech industry in 21st-century Andalucia? Er, no. But aceite de olivo is, and always will be, an inescapable and omnipresent source of pride in this part of Spain.
Camilla left soon after the flamenco performance, to catch her plane at 5.30 to Granada, where she and Charles spent the weekend at the Duke of Wellington's private country estate.
Also present at the flamenco was another duchess: the Duquesa de Alba (below, left of photo), who famously loves her flamenco. Cayetana sat next to the other duchess, and the press photographers had a field day. The Duchesses met just a few months ago, when Prince Charles received Cayetana, her son Cayetano, and daughter Eugenia, at Buckingham Palace.
The Duquesa de Alba stayed around for a while once Camilla had gone. She is a small, frail figure, but is much sharper than she appears (I know, I've interviewed her).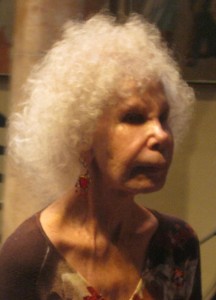 Duquesa de Alba
If, like me, you are fascinated by this very individual, bohemian aristocrat and art collector (more titles than Queen Elizabeth II, one of largest private art collections in Europe), the second part of the mini-series about her life, which begins with her second marriage, to Jesus Aguirre, starts tonight on Telecinco. I'm intrigued by her and can't wait to see it. I'm also hoping to interview her again soon. Watch this space.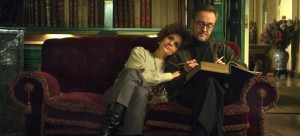 Cayetana and Jesus Aguirre in La Duquesa.