Yay, my favourite season of the year is here!
The rain has stopped, finally, after weeks and weeks of endless downpours, showers, drizzle, thunder, lightning, puddles, wellies and waterproofs - and, of course, floods, which have affected unfortunate communities living near rivers such as the
Guadiaro
in the Ronda mountains, and the Guadalete near Jerez.
The
embalses
(reservoirs) of Andalucia are nearly all at around 90% capacity, which is excellent news for an area with less than reliable rainfall. Another advantage of such copious water falling from the skies is that this an ideal time to visit wetlands such as the UNESCO World Heritage site
Doñana National Park
in Huelva province, where you can see a huge array of bird species, or the smaller Cañada de los Pajaros, a privately-owned reserve near Seville.
A couple of days ago, as I was walking along the street in Seville, I smelled my first
azahar
(orange blossom) of the year. This experience is much more than mere olfactory stimulation: it is a whole raft of feelings wrapped up in one waft of scent. When the orange trees produce their beautiful little white flowers, you know that winter is over; everyone relaxes and starts smiling and chatting amiably to each other; the days get both warmer and longer; and there's a buzz of anticipation as the most important two events of the city's calendar are upon us:
Semana Santa
and
Feria
.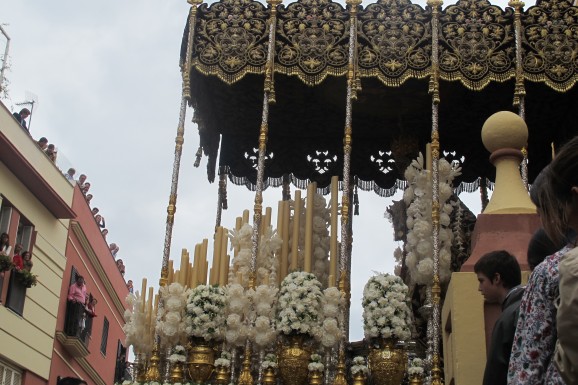 Semana Santa
(Holy Week), which starts at the end of next week - its official dates are 24-31 March, but they keep tagging extra days on at the start - is the largest and (one of) the most important such celebrations in the Spanish calendar, and in Seville it is grand in scale. Over 60 processions make their way through the city's streets, many of which are closed to traffic, towards the cathedral.
The solemn
processions
are made up of
nazarenos
, who wear the pointed hoods and long robes which can seem sinister at night, and
pasos
(floats) with much-revered statues of Jesus Christ and the Virgin Mary. These are carried by men called
costaleros
; in Seville they carry the
pasos
on their necks, hidden behind a cloth; in most other cities, such as Malaga, the float is supported on the shoulders of the men.
If you want to see
Semana Santa
in any of the popular cities - Seville, Granada or Malaga - but you haven't booked your hotel yet, then you'll be lucky to find anything at this late stage (though it's always worth a go). Be aware that many hotels have special Semana Santa rates, which can shoot up to as much as double normal periods.
Then, on 15-21 April, the mood changes completely, and it is the joyous, raucous Feria de Abril. Sevillanos drink, eat and talk the night away for a solid week in little stripey tents called
casetas
. The horses prance, the frocks swirl, the couples dance and it's quite a sight to behold.
Spring is, without a doubt, the best time to visit Seville, and the rest of Andalucia too - with mild temperatures, sunny days, and fiestas at every turn, come and join in the fun!