Guest blog post: Holly Penny
Luis Medina Abascal at Seagram´s Premium Tonic Water launch
Spain's premium gin market has enjoyed a huge boom over the past few years, with fashionable gin-tonic bars popping up all over the country. Indeed, Spanish imports of UK-produced gin have increased by nearly 20% in the last 18 months.
Tonic is the primary mixer for the classic British G&T; 80% of gin is now drunk as a gin-tonic. Now Canadian company Seagram's has launched its new Premium Tonic Water into the Spanish market, as the ideal ingredient for this oh-so-"in" cocktail. Premium Tonic Water is made with natural quinine, and no preservatives; Seagram's suggest their gin-tonic is served with chilled gin, a lemon twist, and juniper seeds, to bring out the flavour of the spirit.
The launch of the soft drink took place on Tuesday night in the exclusive neighbourhood of Sotogrande (Cadiz), in a stunning luxury mansion designed by renowned architect and contemporary art collector
Valentin de Madariaga
.
Representatives from Andalucia.com attended the event in Sotogrande, to try out the new first-class mixer. Young Spanish aristocrat Luis de Medina Abascal attended the launch, brother of Rafael de Medina, 20th Duke of Feria, son of Nati Abascal and grandson of the late Victoria Eugenia Fernández de Cordoba, duchess of Medinaceli.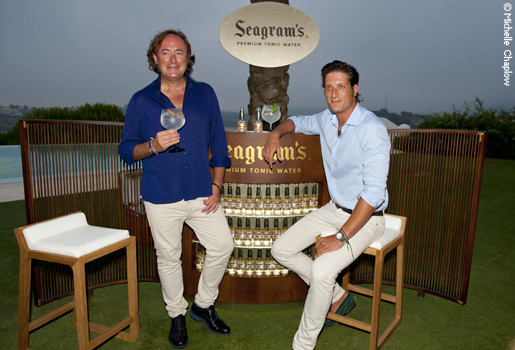 Architect, Tomás Alía and Luis Medina Abascal by the specially designed Seagram´s bar
The event had a luxurious vibe, on the mansion's rooftop in the glowing moonlight, overlooking the stunning infinity pool, with a gorgeous backdrop of Sotogrande's rolling hills. Guests were all served elaborate gin and tonic cocktails with lime and cinnamon garnish by an award-winning mixologist from the ´Seagram's Premium Tonic Water bar´, which itself has been intricately constructed by designer Tomás Alía. The bar is doing a tour of Spain, with next stops in Valencia and Madrid.