Property for sale in Jimena de la Frontera
Jimena de la Frontera is a classic example of a traditional Andalusian pueblo blanco (white village), with all of the character that one can expect. The village is situated next to the Alcornocales Natural Park to the west, with open fields and green spaces of countryside to the east.
Properties in Jimena are either typical village houses; more modern styled apartments on the outskirts; country houses; or villas located in the surrounding area to the south and east. There is no recent construction in the park to the west.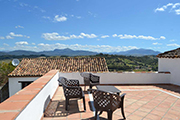 Newly Reformed Townhouse for sale
This beautiful and very stylish property, has just undergone a full reform to a high standard. The owner, a very highly reputable building company, has restored this historical townhouse and created a fantastic mix between traditional and modern commodities.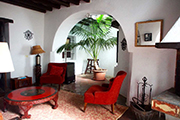 Stunning 18th Century House for sale
This 18th century family house, or Casa Rural, is filled with character and charm and is located on a quiet none-traffic pedestrian street full of flowers. It consists of 5 bedrooms, 3 bathrooms, courtyard with fenced off plunge pool, 3 terraces and a garage.
Jimena's population including San Pablo de Buceite and Los Angeles is around 10,000 and includes an increasing number of Europeans, including Norwegians, Belgians, French, German and British, many of which have tastefully restored Jimena's traditional houses.
Jimena offers a well-equipped health centre (open 24 hours), nursery, primary and secondary schools. The international school of Sotogrande is approximately 25 minutes away. A municipal swimming pool, sports pavilion, pádel, football and horse riding are available locally.
Destinations