Birdwatching on Spain's Southern Coast 
By John R. Rutler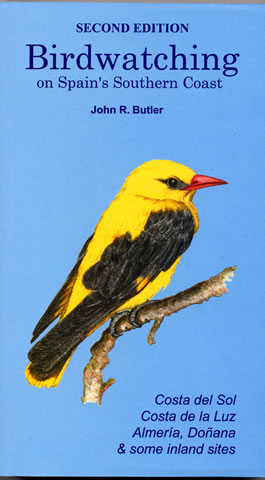 Birdwatching in Spain's Southern Coast by John R. Butler
Recognised as a leading title in its genre, 'Birdwatching on Spain's Southern Coast' is an excellent guide to watching birds along the southern coast of Spain including descriptions of sites with detailed maps highlighting points of interest and a calendar guiding you to the best time to visit sites.  This is the guide you need to make the most out of a birdwatching trip. 
The following excerpt about birdwatching in Montes de Málaga is a taste of what the book has to offer.
The Montes de Málaga is a vast mountainous region to the north and east of the city of Málaga. This site description deals with the area known as Parque Natural Montes de Málaga, which rises to a maximum height of 1,031 metres above sea-level and covers an area of 4,900 hectares.
The park is densely vegetated with a wide range of trees, shrubs and flowers. Typical tree species include Monterey pine, stone pine, poplar, ash, willow, strawberry tree, carob, cork-oak, Holm oak, cypresses and olives. The shrubs, bushes and scrub undergrowth include asparagus, daphne, gum cistus, genista, lavender, yellow retama, oleander, Spanish broom, thorny broom, kermes oak, dwarf fan-palm and gorse.
The whole park is a haven for wildlife and apart from the impressive bird list there are wild boars, foxes, badgers, rabbits, squirrels, genets, polecats, stone martens, bats, snakes, frogs, toads, salamanders and lizards, of which the ocelated lizard and the chameleon are the most spectacular.
Resident bird species such as Azure-winged Magpie, Eagle Owl, Goshawk, Short-toed Treecreeper, Raven, Red-billed Chough, Crested Tit and a whole range of finches, tits and warblers are joined by seasonal visitors which include Booted and Short-toed Eagles, Egyptian Vultures, Golden Orioles, Alpine Swifts, Woodchat Shrikes, Red-necked Nightjars and Siskins.
Inside the park there are many kilometres of dirt roads and tracks that can be driven or walked but there are limited entry points for vehicles. The roads are mostly in good condition and parking anywhere within the park boundaries is never a problem.
Numerous recreation areas (Areas Recreativas) have been created with bench seats and tables, water supplies and barbecues that attract day trippers from the city (mainly at weekends) but these and the resulting noise can easily be avoided. Numerous walking trails (Senderos) have been created and you will find notice boards advertising these throughout the site. Most points of interest within the park are fairly well signposted and the four main driveable roads have been colour coded.
For more information about birdwatching in Montes de Málaga and over 60 other sites on the Costa del Sol, Costa de Almeria, Costa de la Luz, Doñana and some inland sites follow the link to buy the book now.
Birdwatching on Spain's Southern Coast
By John R. Butler
A guide to watching birds at 39 major and 35 subsidiary sites on the Costa del Sol, Costa de Almería, Costa de la Luz, Doñana and some inland sites, with detailed maps of all the sites, a calendar giving the best times of the day and year to visit, a complete list of birds personally identified by the author at each site, and information on wheelchair accessibility. An amazing book. It confirms an opinion that tourist boards should not try to produce material themselves but patronise those who know the subject and how to present it in a practical form.