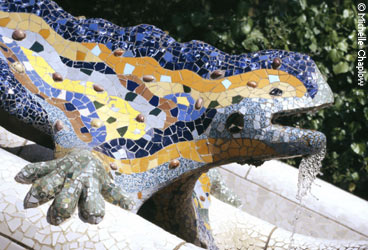 Gaudi sculptures on the rooftop of the Casa Milá.
Travel in Barcelona
Many travellers from abroad will use Barcelona as a their gateway to Spain.
Trains
Visit the Renfe Train website to plan your trip from Barcelona to Andalucia on either long distance trains, high speed AVE trains or even overnight trains with sleeper cars. Train travel in Spain is generally comfortable and convenient.
Barcelona to Madrid
Barcelona to Seville
Barcelona to Cadiz
Buses & Coaches
Bus travel is a very economical alternative to train travel. Becoming more and more popular, the less expensive bus services travel frequently to Andalucia. Many buses are equipped with video monitors and supply earphones to listen to a choice of recorded music or features.
Airplanes
Flying from Barcelona to Andalucia is more costly, but a quick way to reach your destination.   The Barcelona airport is located approximately 13 kilometres southwest of the city centre. Iberia amd Vuelling fly to the airports in Andalucia which are: Almeria, Malaga, Jerez, Seville, Granada. British Airways fly to London.
Driving
Car rental travel may be the best form of transportation to Andalucia if you don't have a rigid schedule and are prepared to test your defensive driving skills on Spain's speedy highways. Although a little more expensive than bus travel, car rentals allow the greatest amount of flexibility for sight seeing along the way and visiting many historical, old towns you would have otherwise missed. From Barcelona take the NII highway towards Zaragoza/Madrid. Once you reach Madrid, your route will depend on your final destination in Andalucia.