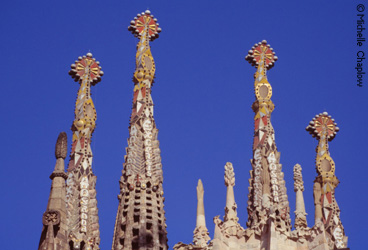 Don't miss the Sagrada Familia unfinished church in Barcelona designed by Gaudi.
Overview of Barcelona
Hostels | Bus Tours | Airport Transfers | Tickets| Discover Barcelona |
Barcelona is a thriving European city with a population of over 1.5 million people. Here you will find a unique mix of world culture in a decidedly Catalan context bordered by the best of Spanish and French culture. The resulting flavours, sounds, sights and smells make for an unforgettable visit that many convert into a lifelong experience.
A walk down the famous Ramblas is the best way to meet Barcelona head on as this will take you all the way from the Plaza de Cataluña to the old port, introducing you to stands overflowing with flowers, birds and other goods along the way. Here you can get your first sample of Catalan cuisine or stop for coffee and a pastry at one of the many cafés – perfect for people watching!
Transportation to and from Barcelona is possible by air, train, bus or boat and the city offers a complete public transport system to connect you with all ten districts and make it easy to move about the city centre when you tire of walking. For more information, visit our Barcelona Transportation Guide.
Barcelona is a city of art. Architect Antonio Gaudí is just one example of the creative genius that has come pouring out of Cataluña for decades. You'll see his larger than life creations throughout town. Names like Picasso and Joan Miró have also left their mark and given birth to internationally renowned museums. As for monuments, Barcelona could be described as a living museum. Visit our Barcelona Sightseeing Guide to learn more.
Book your room in Barcelona today and be sure you there will never be a dull moment in this brilliant hub of life and activity. Whether you are eating at one of Barcelona's best restaurants, visiting the many world class museums, participating in cultural events, enjoying the beaches, wandering through the Gothic neighbourhood or the trekking in the nearby mountains, there will always be just one more thing you wish you could do before it's time to go home.