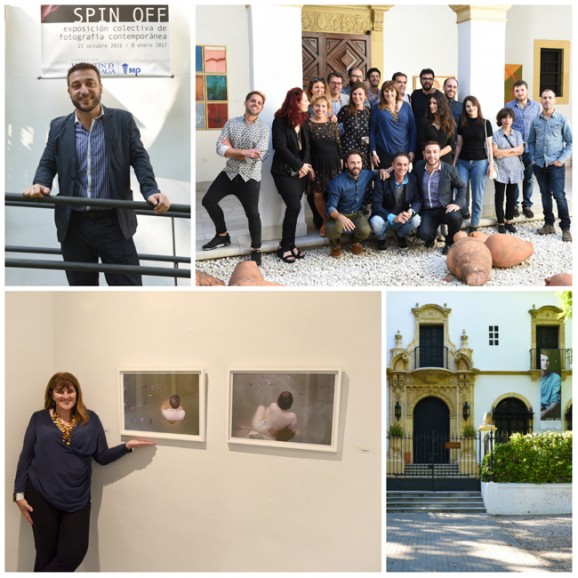 Contemporary Photography Show in Seville
by Fiona Flores
Seville is not known for its contemporary art scene – Malaga has long had the advantage in that cultural arena, with its excellent Centro de Arte Contemporaneo, or CAC.
So it was gratifying to attend the opening of a photographic exhibition at the Fundacion Valentín Madariaga in Seville, an arts foundation housed in the former US pavilion from the Expo 1929. Read more about the Fundacion de Valentin de Madriaga.
A group of photographers, who have studied the renowned photography course at both the CAC Malaga and in Seville, run by charismatic Eduardo d'Acosta, partly funded by the Foundation, will be showing their work until the 8th January 2017. The course has now been run 10 times since 2010, with over 300 students taking the course; of this total, 30 were chosen for the show, along with 10 guest lecturers from the course. Artists include: Pierre Gonnord – José Manuel Ballester – Juan Manuel Castro Prieto – Miguel Trillo – Luis Baylón – Dionisio González – Bleda y Rosa – Tete Álvarez – Jesús Madriñán – Adela Aguilera – Diego Diez – Laurent Perrot – Rando – Alejandra Vera – Álvaro Trigos – Silvia Torres – Benito Alcón – Cristina Lorenzo – David Villalba – Diana Mingorance – Diego Fajardo – Javier Orive – José Bellido – Gloria Rico – Lía García – Luis Colmenero – Luismi Zapata – Manuel Ibañez – Manuel Viola – MariCarmen Quintana – Michelle Chaplow – Miguel Torés – Naikari – Pía Arrieta – Roberto Cerrato – Frank Gámiz - Violeta Niebla – Silvia Diaz – José Luis Moreno – Juan Carlos Carmona -Esther Pita.
The result is an eclectic mix, with portraits, landscapes, still lifes, architectural shots and abstract studies. One of the 30 chosen photographers, the cream of alumni from the course, is Michelle Chaplow, the award-winning photographer who is a director of Andalucia.com.
Michelle's photos were from her series, Pool of Life, which is still a work in progress. The series examines the female form, with naked women in abandoned swimming pools. Her photographs have a dreamy, surreal feel to them, and the creamy texture of the model's skin, contrasted with the greyish surrounding water, is very striking.
The photos, entitled Hannah, have been recognised in several awards, including honourable mentions at the Black&White Spider Awards, the Photography Masters Cup, an exhibition by the Royal Photographic Society, and in an article by Nikon.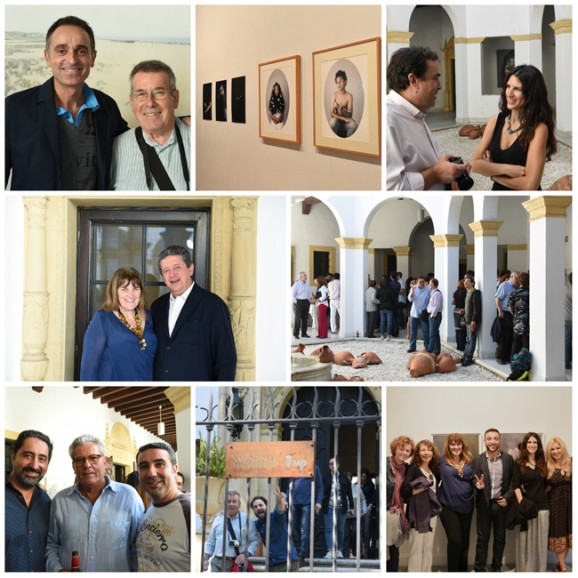 The exhibits in the show which were most effective were the groups or series – such as six architectural black and white shots of unusual structures on stilts raised off the ground, whether residential or industrial, in open wasteland. All have a futuristic look, whether 1960s pods, 1980s deconstructions, or timeless egg-shapes. It is left to the viewer to surmise what, or indeed, where, they might be, but these intriguing images certainly fire up the imagination.
Other notable works included Good Night London by Jesus Madriñan, four portraits of young people on a night out in the UK capital. All are staring with a degree of menace and suspicion at the camera, and each holds an iconic item in his or her hand: a mobile phone, a glass, a bottle of beer, a handbag. Two of the girls are scantily clad, wearing only a bra on their top half. As studies of British youth in their natural nocturnal habitat, they are superb. Behind each figure, in the background, you can see other semi-naked young people in the club or pub dancing and talking.
The shades, postures, and the subjects' disdainful expressions – the intense red hair or blue skirt, the tilt of a head, the knowing look - remind the viewer of classical portraits of religious figures by Sevillano painters such as Velazquez and Zurbaran. They are not embarrassed or self-conscious, but defiant.
You can also see excellent reportage photographs of children in an Africa school, by a Spanish doctor-photographer who works as a missionary in the Third World, and innovative holographic pieces by Manuel Viola Figueras.
The exhibition is spread over seven or eight rooms on the ground floor of the Foundation, around its delightful central courtyard. Well worth the short walk from centre to see this contemporary photography show. Don't miss the tourist information office next door, in the exquisite Costurero de la Reina, the striped orange and white building on the corner of Avenida de la Palmera and Avenida Maria Luisa, opposite the Los Remedios Bridge. This building is one of those which you drive past many times and admire fleetingly, but rewards the effort of a visit, with its stained glass windows and neo-Mudejar arches.
Foundation Valentin Madariaga is at Avenida Maria Luisa (next to the Biblioteca Infanta Elena), Seville. Tel 954 366 072 Opening hours: Monday to Friday 10.00 – 14.00, 17.00 – 20.00; Saturday and Sunday 10.30 – 14.30. Public transport: 6, 34, C1 and C2 pass close by, and both Puerta Jerez and Prado de San Sebastian metro stations are a ten-minute walk away.