FINOS PALMAS 2016 – the finest sherry in a rarefied Sevillano setting
Pedro Rebuelta of the Gonzalez Byass family, Cayetano Martinez de Irujo, the Casa de Alba, Antonio Flores, Chief Winemaker at Gonzalez Byass
The launch of this year's Coleccion
Finos Palmas
, four very special Sherries from the Tio Pepe bodega, chosen by Gonzalez Byass chief oenologist Antonio Flores, took place last week in a suitably unique and historic location: the
Palacio de las Dueñas
in Seville, home of the late Duquesa de Alba.
A privileged group of guests, including this blogger, was shown around the palace, trying each sherry in a different area of the gardens and patios – accompanied by music and poetry, with the cata led, of course, by Antonio Flores (@hacedordevinos, winemaker, on Twitter). To represent the Casa de Alba, the late Duquesa's youngest son Cayetano, Duque de Arjona, welcomed the guests from the tree-lined patio in front of the house, which looks more like a country mansion than a grand palace, densely covered with pink bougainvillea.
Standing in front of the façade, Antonio explained that Tio Pepe was Spain's most international wine, and the most famous from Jerez. He describes it as "pura vida"- pure life, saying that all of these special sherries have to be aged (and blended) - "nothing is done in a rush in Jerez; everything worthwhile takes time". A very Andalucian sentiment.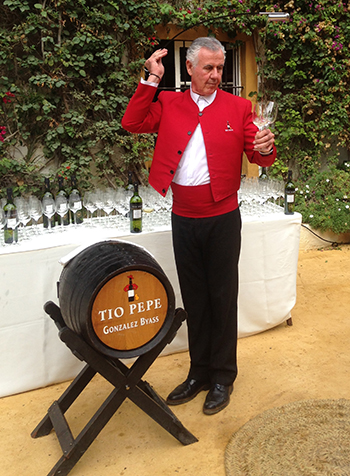 Venenciador
Taking a glass of Una Palma from waiters stationed in the stables, we walked through to the famous Patio de los Limoneros, where Antonio Flores read the famous lines by Sevillano poet Antonio Machado, about this very patio in the house where he grew up. "Mi infancia son recuerdos de un patio de Sevilla, y un huerto claro donde madura el limonero."
This is a light sherry, Tio Pepe aged for six years, with a yellowy-golden colour, and a bready, salty taste from the flor (layer of yeast to protect the wine from oxygen) that is typical of fino sherries. It's also a very dry sherry, ideally served ice-cold at outdoor events in the warm Spanish spring; like all the Palmas, it is unfiltered. Ever the man of words, Antonio described it as "a punch from the sea". Three barrels of Una Palma have been bottled out of a total of 142 in the solera.
Moving into the magnificent main patio, we tried Dos Palmas – this is slightly darker in colour, with a yeastier taste after eight years of flor, and to me, musty and reminiscent of bodegas (in a good way). Sherry has such a different taste to any other type of wine, it can be tricky to describe without it sounding outright bizarre. Two barrels were chosen from 150 for Dos Palmas. Antonio quoted Luis Cernuda. another Seville-born poet, while a flamenco guitarist played by the central fountain. A palace, flamenco, poetry and extremely fine sherry.
Passing through this patio into the smaller Patio del Aceite (where the palace's almazara, olive oil mill, was located), the stronger Tres Palmas had a darker, more intense gold colour. This sherry has started to interact with the oxygen, and is bottled from just one barrel out of 150. The flavour is also deeper, with hints of almonds and hazelnuts - a fino almendradado, with a saltier finish, but creamier – "between life and death" as Antonio put it, master of the Andalucian melodrama, meaning at the limit of the biological aging process. He read us another poem: "El Angel de las Bodegas" by Rafael Alberti.
Our final stop was in the Apeadero, where people used to dismount from their carriages. Here Cayetano Martinez de Irujo spoke to the assembled guests, saying that this was a perfect place for the Finos Palmas launch "Va tan bien en este espacio". We tasted Cuatro Palmas, an old amontillado of 51 years, taken from one of six barrels, which Antonio described "el mejor vino generoso del mundo".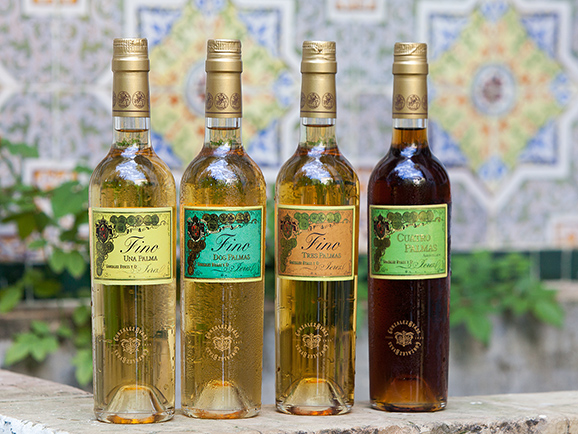 Bodegon
Mahogany-coloured, this sherry was richer than the previous sherries, and sweeter with scents of walnut and varnish. At 22 degrees, this is a strong wine which packs a punch, albeit an elegant one. "Tan afilado como una saeta" (as sharp as a saeta, a Semana Santa song) said Antonio, referring to the procession that afternoon of Jesus del Gran Poder, the Duquesa's favourite hermandad, and in whose church her ashes are interred. Cayetano said that he had been both a costalero and nazareno in the procession. It was a nifty way of linking an aspect of Sevillano life so dear to the Duquesa, whose spirit can still be strongly felt within the salons and patios of the palace, and whose identity is firmly imprinted on every tile, stone and leaf.
Pedro Rebuelta Gonzalez, of the family company Gonzalez Byass which produces Tio Pepe, told us that the Finos Palmas, along with Tio Pepe en Rama, the unfiltered version which is launched every spring, were introduced out of need to innovate, and to appeal to a new generation of drinkers. Inspiration was sought in the historical archive of Gonzalez Byass, which includes many labels on which the Finos Palmas design are based, 10,000 bottles, and many thousands of barrels.
Finos Palmas is always produced in consultation with a top oenologist – this year, Master of Wine and Master Sommelier Gerard Basset, one of very people to hold both titles, and co-founder of the UK Hotel du Vin group.
After the four sherries had been presented, we treated to superb dishes – rice with prawns, tuna tataki, prawn pastry nests, ajoblanco (chilled almond soup), adobo (marinated dogfish), and asparagus in batter, among others.  Strategically placed food stations meant that you didn-t have to be constantly hijacking unsuspecting waiters to get some nibbles, as often happens at these events, which made for a much more relaxing eating experience.
You can buy Finos Palmas at Corte Ingles Gourmet Experience and from selected wine merchants.
If you're a sherry lover, don't forget it's International Sherry Week this week, until Sunday 13 November. To find out where events near you are happening, from tastings to pairing menus, visit sherry.wine/sherryweek