La Maestranza de Sevilla by Mariano Fortuny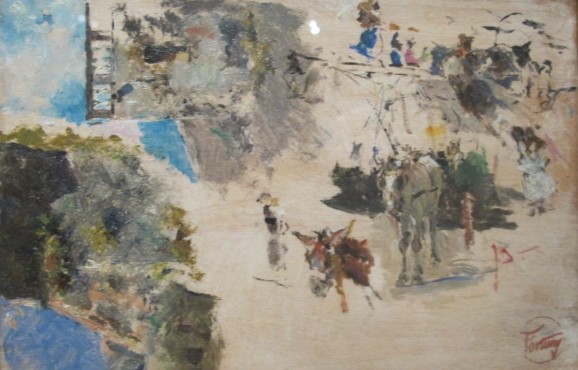 A new exhibition at CaixaForum in Seville,
Andalucia in the Imagination of Fortuny
, examines the Granada period of Catalonian painter Mariano Fortuny.
Fortuny (1836-1874)  is considered by many the greatest 19
th
-century painter after Goya, and one of Spain's most important artists, despite his tragically short life and career.
The artist lived in Granada with his wife and their son from 1870-1972. At the time when the Fortuny family arrived, the city was an isolated spot, culturally as well as geographically, well off the map of established artistic hotspots like London, Paris and New York. The painter, flushed with recent critical and commercial success in the French capital, but also wanting to escape the associated pressures of his new status, found a sense of peace where he could rediscover his creative talent.
Fortuny's production while living in the city of the Alhambra was prolific. He painted many of its streets and buildings in romantic style - he loved the atmospheric narrow alleys - as well as scenes of Seville, and of Morocco.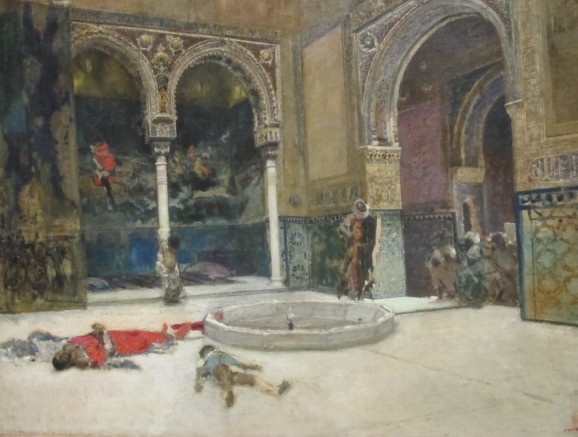 La Matanza de los Abencerrajes by Mariano Fortuny
One of his most famous works was painted in Granada
, La Matanza de los Abencerrajes
. The bloody scene is set in the Alhambra's Sala de los Abencerrajes, off the
Courtyard of the Lions
.
Legend has it that the Banu Al-Sarrya (the original Arabic version of the name), an important political dynasty, were massacred here by the Zenete, a rival family. The Zenete claimed that one of their women was involved with a man from the Al-Sarrya, and so 36 of that family's men were invited to dinner and slaughtered (perhaps inspiring a notorious episode of
Game of Thrones
).
Another notable painting, toward the end of the exhibition, is
La Maestranza de Sevilla
, showing the bullring with the cathedral behind. Also look out for Torre de las Damas, part of the Alhambra which so entranced Fortuny.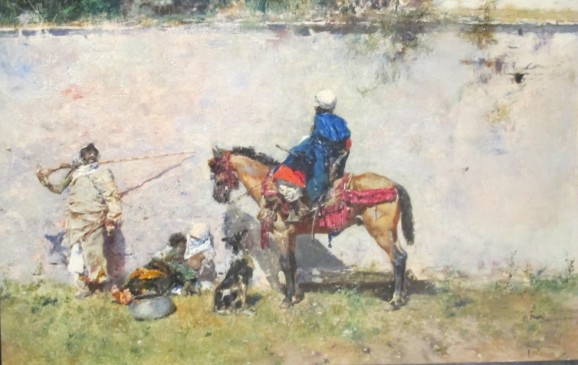 Marroquies by Mariano Fortuny
Some paintings have a Moroccan theme, as Fortuny was sent there in 1859 to document the Spanish-Moroccan war (remember, this was before the era of photography). He painted Moroccans and also Islamic ceramic tiles with typically striking geometric designs.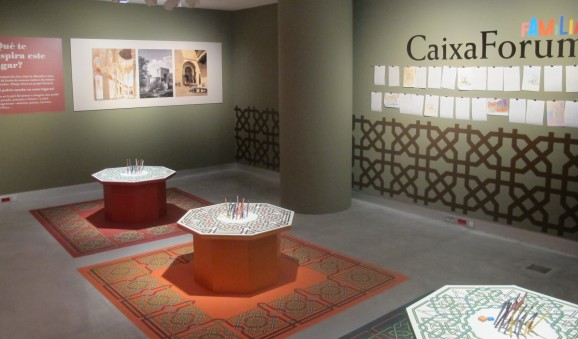 Childrens area - as always as CaixaForum exhibitions, handicrafts activities related to the show are offered free.
This show consists in part of sketches and drawings, studies for oil paintings, some of which you can see in the exhibition. Many of these show fascinating details of local granadinos, their clothes, houses, patios and gardens.
One curiosity worth mentioning is that each of Fortuny's works is stamped with a "Fortuny" mark. This is to certify its authenticity as one of the painter's works, dating from when all his oeuvre was gathered together by the National Museum of Catalonian Art.
Sadly, Fortuny died of malaria shortly after his stay in Granada, in 1874, at the young age of 36. His son, also Mariano Fortuny, who was born in Granada, became a successful fashion designer.
Fortuny fans may be interested that the Prado in Madrid is hosting another exhibition of his work,
Mariano Fortuny (1838-1874),
from 21/11/2017 to 18/03/2018.  
Andalucia en el Imaginario de Fortuny is at Caixa Forum, Seville until 7 January 2018Camino de los Descubrimientos, esq calle Jeronimo de Aguilar, 41092 SevillaOpen daily 10am-8pm (Closed 25 December 2017, 1 and 6 January 2018)
 Related blog posts
Sorolla's Garden Paintings at CaixaForum in Seville