[caption id="attachment_3570" align="aligncenter" width="433" caption="Parque Maria Luisa in Seville, with many shady spots for a summer's day.
All photos by Fiona Flores Watson
."]
[/caption]

POST BY AUGUST'S SPECIAL GUEST BLOGGER: KIM CAUSIER
Anyone familiar with Seville's summers would probably warn visitors off. As we arrive in August, the temperatures are sky-high, reaching anywhere near 45 degrees in the daytime. Although local folk flee in search of (sea) breeze and shade, tourists continue to arrive in droves. This is my second summer in the city, and although I thought that I was starting to become acclimatised, I realised that I was wrong after spending an afternoon here. So I've been thinking about the best ways to keep cool in the city - without having to leave.
TIP 1: BE PREPARED
If you are going to venture out on an extremely warm day, then being prepared for the sun is a no-brainer: wear a hat (yes, you will look like a tourist, but at least you won't end up with a lobster-coloured face) and sunglasses; and of course, use high-factor sun protection, reapplied regularly. Make sure you drink plenty of water and take regular rest stops – in the shade, obviously. And avoid the sun altogether, if you can, between about 1 and 5pm – have a long lunch and a siesta, as the locals do.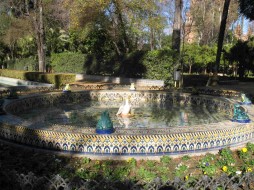 TIP 2: STICK TO THE SHADE
The towering trees of the
María Luisa park
serve as a good refuge from the blazing sun. Walk around and take in its various glorietas, discover Seville's traditional crafts, customs and clothing in the
Museo de Artes y Costumbres de Sevilla
, or become acquainted with some feathered friends – locally the park is known as the "parque de las palomas" after the blanket of white doves laid out in the Plaza de las Americas (tip for parents: kids love feeding them). There are plenty of benches in the shade to while away your time with a good book, or just peacefully watch the world go by.
Places of worship are normally another good bet for a cool ambience. The
Cathedral
is immense, being the largest Gothic cathedral in the world, and therefore always remains at an ambient temperature. Marvel at its imposing decor and opulent adornments, given as endowments to the various saints and Virgins.
TIP 3: FIND WATER!
City visitors should seriously consider staying in a
hotel
with a swimming pool, as public baths are almost unheard of in the centre, and not openly accessible to non-members.
For the younger ones, or young at heart,
Isla Mágica
offers plenty of opportunities to cool down, with a variety of water-themed rides until late in the evening. If you really want to get soaked, go and watch the Iguazú, but be warned - it really will leave you dripping wet!
In the
Alameda
, a trendy, boho barrio in the north of the city centre, jam-packed full of bars and restaurants offering music of all genres and great food, the fountains are turned on in the summer. These ground-level water features send up a vertical spray in a range of densities: from an inviting mist to soak-you-through shoots. Have a splash about and then wet your whistle in one of the many surrounding bars, or enjoy short films shown outdoors in the paseo itself of an evening.
TIP 4: DON'T GO OUT TILL LATE
You will notice that as the sun starts to set at around 9 or 10pm, the Sevillanos start to emerge. Many companies shut down in the summer altogether, or else staff work 'summer hours', starting and finishing earlier without a lunch break. Sevillanos love being
en la calle
at night - whether it's super-casual student-types in the Alameda, or dressed-up-to-the-nines
pijos
in Santa Cruz - and this really is the best time to be out and about.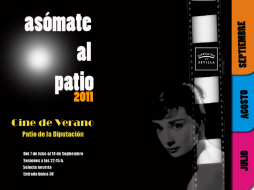 TIP 5: EXPERIENCE OUTDOOR CULTURE
A perfect way to spend a hot summer night is at one of the many cines de verano (open-air cinemas), which are dotted around the city. The most central is in the Patio de la Diputación, near the Jardines de Murillo and barrio Santa Cruz, with many of this year's Oscar nominees (and winners), as well as old-time classics, on the programme. If Spanish is not your forte, wait until Sunday evening when films are shown in V.O. (original version). Entrance is reasonable at €3 and there is a bar serving well-priced snacks and refreshments. The university runs a similar programme, called 21 Grados – Noches de Verano, with movies showing from Monday to Friday at CICUS. Plaza Pumarejo, near the Macarena church, has films every Thursday.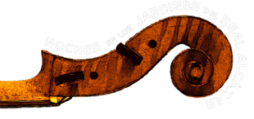 During the summer months, there are also
daily concerts
in the gardens of the Alcázar, one of the most beautiful settings for an outdoor night-time concert in the city, amidst the múdejar architecture, trickling fountains and centuries-old palms. The programme features a variety of classical, medieval and world music (including flamenco) and tickets are just €4 – you use the garden entrance (Puerta de la Alcoba) next to Egaña Oriza restaurant, on the corner of Calle San Fernando.
If you're out and about later, and prefer social to cultural activities, head for one of the chic terrazas to sip a cocktail or two. One picturesque bar perched alongside the Guadalquivir River, in calle Betis, is Tertulia. From its terrace you can spot the Torre de Oro, the Triana Bridge, Giralda tower and the Bullring - serves a good mojito or caipirinha too. And while away the earlier hours in the more upbeat Alfonso terraza on the Paseo de Delicias.
Kim Causier lives in Seville, where she is currently working as an in-house translator. Like many expats, she has a passion for Andalusia's language, food and culture, and enjoys writing about her experiences on her blog, Becoming Sevillana.