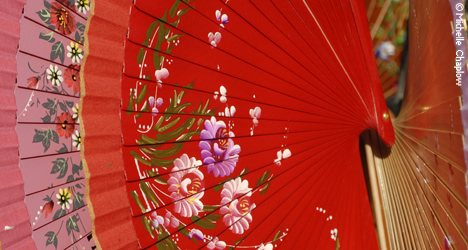 Hotels in Seville City
Featured Hotels | Five Star | Four Star | Three Star | Two Star | One Star
Take me to Seville Hostals & Hostels
Hotels in Seville come in all shapes and sizes. There are plenty of rooms all over the centre. High season is March and April. During Semana Santa and the April Feria you should book even for inexpensive hostals, preferably a year in advance. 
Seville is rich in culture and heritage and a stay which coincides with a festival is highly recommended. There is something for everyone here in the Andalusian capital, from small modest hotels to the luxurious and lavish. Last minute hotel deals are available all year around.
For inexpensive hostals, the Barrio de Santa Cruz is surprisingly the best place to look. Even in July and August, you'll be able to find a place on the quiet side streets off Mateos Gago, such as the Pension Fabiola, Hostal Cordoba and Hostal El Ben Dormir. There are many more and it's best to explore on foot and see for yourself. The largest selection of all, however, is along Calle San Eloy, just east of the now defunct Cordoba station.
For  apartment rentals in Seville, visit our Seville Rentals page.  For Hostals (basic hotels) and Hostels (backpackers) see our Seville hostels page.
Five Star GL Hotels in Seville
Book 5* GL Hotels in Seville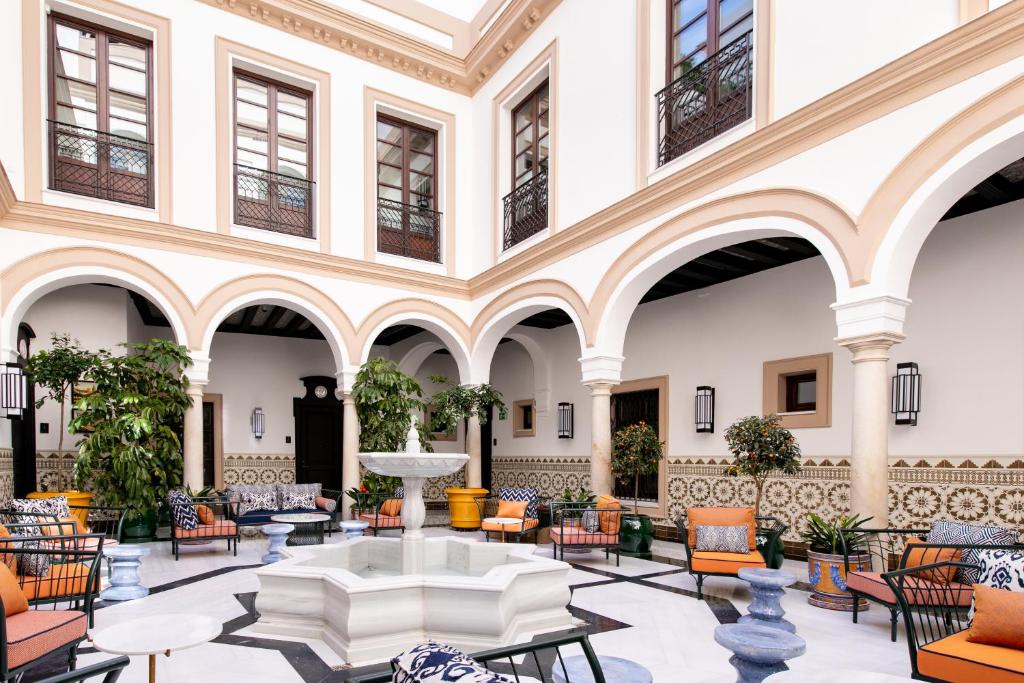 Hotel Casa Palacio Don Ramón
Hotel Casa Palacio Don Ramón features a seasonal outdoor swimming pool, shared lounge, a restaurant and bar in Seville. This 5-star hotel offers a concierge service and a tour desk. The accommodation provides a 24-hour front desk, airport transfers, room service and free WiFi throughout the property.
Cavalata Boutique Hotel - Triana Sevilla
For the first time, Seville is having a 5* GL hotel 'on the other side of the river', in Triana. It will be the Cavalta Boutique Hotel, which is housed in a historic building where the architectural value has been carefully preserved. The owner, Audentis Gestion, will take over the management. Opening on 10th April 2023
Five Star Hotels in Seville
Book 5* Hotels in Seville
Four Star Hotels in Sevilla
Book 4* Hotels in Seville
Three Star Hotels in Sevilla
Book 3* Hotels in Seville
Two Star Hotels in Sevilla
Book 2* Hotels in Seville
One Star Hotels in Sevilla
Book 1* Hotels in Seville
Puerta de Sevilla
Located just 10 minutes' walk from Sevilla Cathedral, Puerta Sevilla offers air-conditioned rooms and a sun terrace with loungers. Free Wi-Fi is available. Each of the rooms is decorated in a beautiful, traditional Sevillan style.
Read More: Booking.com
Hotel Zaida
This hotel is located in the heart of Seville but at the same time enjoys the silence of an almost traffic free road. The building is a palatial home in mudejar style totally renovated, the only modern parts of the hotel are the rooms and the lift.
Read More: Booking.com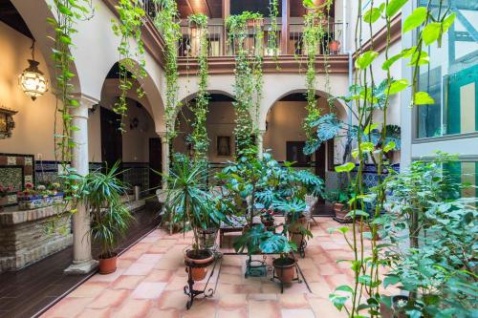 Hotel Patio de las Cruces
Hotel Patio de las Cruces has an ideal setting in Seville's Jewish Quarter, 10 minutes' walk from the city's cathedral. It features free Wi-Fi access and a traditional Andalusian patio. The air-conditioned rooms at Las Cruces have simple décor.
Read More: Booking.com
Destinations