Hotel Casa 1800
New small hotel in the heart of barrio Santa Cruz, a stone's throw from the cathedral, in a converted 18th-century palace.
The magnificent iron entrance gate tells you hotel's name, in case you missed it. All the 24 rooms in the three-storey casa-palacio, built in 1864, are different. Casa 1800 has an unusual mix of décor, but it works – as you come in, the lobby has exposed brick (original, though rather out of place in an elegant palace), a chandelier, gold velvet-upholstered baroque furniture, parquet brick floors and a leather sofa. Beautifully intricate wrought-iron doors throughout. Set around a traditional patio with metal balconies, whose communal spaces have welcoming chaise longues and occasional tables.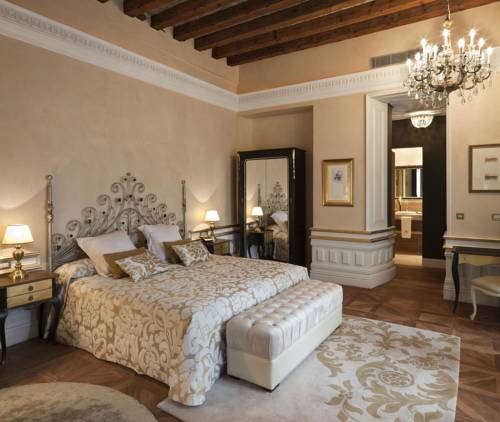 Hotel Casa 1800
The room furniture is slightly chi-chi, with pale brocades and gilt mirrors, although this is offset by original wood features such as beamed ceilings, parquet floors and studded balcony doors. The whole effect is quite romantic, though it won't be to everyone's taste, though the beds are comfortable, with Egyptian cotton sheets. The rooms come in three sizes – Standard, Superior and Deluxe, some with four-poster beds and glassed-in balconies, while the duplex Junior Suite has a private terrace with jacuzzi – and perfect views of the Giralda tower. There's a small patio for breakfast, as well as a guests' terrace for those in regular rooms, also with panoramic views. Excellent, friendly service.
 Free wifi
One of the ground-floor rooms has a private terrace – shady but intimate
Close to many excellent tapas bar on Calle Mateas Gago and around
Room service till 12 midnight
Free tea and snacks 4.30-8pm, great after a long day's sightseeing
Perfect for: tapas lovers, being at the centre of the action
Address: Rodrigo Caro, 6, Casco Antiguo, 41004 Sevilla
Destinations