Hotel Ayre
Large, modern hotel, located right next to Santa Justa train station, with excellent pool.
If you're making a visit to Seville, and then heading off by train to another Spanish city – connections to the Andalucian cities of Malaga and Cordoba are excellent, as are those with Madrid and Barcelona to the north, thanks to the regular high-speed AVE services – this is the place to stay.
Formerly called the Occidental, this nine-storey hotel occupies the corner of a large block diagonally opposite Santa Justa train station, and just two minutes' walk away. It has an outdoor swimming pool with spacious, pleasant terrace adorned with flowers and plants. The lobby is decorated in warm orangey tones, while the 241 bedrooms and suites are comfortable if not overly imaginative. There is also a gym and a restaurant.
The hotel has seven meeting rooms of varying sizes, for up to 400 people, and can accommodate conferences, seminars and training courses. Facilities include technical and audio-visual media equipment, as well as secretarial and hostess services, and translations.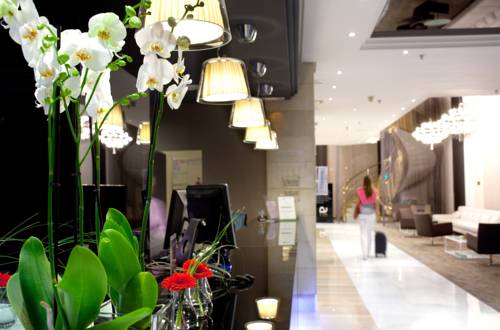 Hotel Ayre reception 
As well as the train station, you're also close to the Nervion shopping district, with El Cortes Ingles department store (where you can buy English press), the shopping centre with cinema and many fashion outlets such as Zara and Mango, and for football fans, Sevilla FC football stadium. The centre is 10 minutes' bus ride away.
Free Wifi
Next to station and close to convention centre and airport
Excellent for business meetings
Bicycle hire available at reception
Car park
Perfect for: business visitors and train spotters.
Address: Avenida Kansas City, 7, San Pablo - Santa Justa, 41018 Sevilla

Destinations