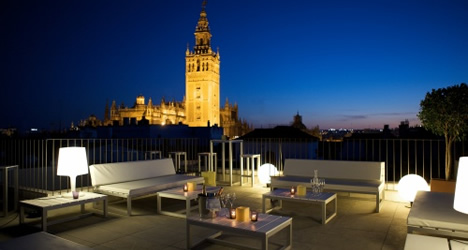 Hotel Fontecruz
Contemporary decor in a quiet street close to the cathedral and barrio Santa Cruz with good-sized pool and trendy roof-top bar.
This hotel is tucked away down a side-street, which means it doesn't have the bustling ambience of those on the main drag, though it's only a stone's throw away. As soon as you walk in, you realise it is very much modern in style, with black and white photos of film stars on the wall, a black marble reception and fluffy white hanging lights. Its stark, white central patio with orange tree is topped by a magnificent 16th-century coffered wood ceiling, with a vanguardista touch - reinforced clear glass around the balconies, instead of the typical iron railings, giving it a clean, modern look.
The restaurant, Morrisons, is music-themed, with guitars and other memorabilia; it has a shady outdoor terrace. The 40 bedrooms are decorated in a regal palate of gold, silver and purple; bathrooms are slate-grey. Some of the rooms retain original features from the casa-palacio – the family's crest in a stained-glass window and coffered ceiling in the suite, and other heraldic details in the patio. Although it doesn't have a spa, there's a hammam (steam room) in the old bodega (wine cellar), through a beautiful brick arch. One of the best things about this hotel, is the large rooftop terrace with bar, which is a trendy spot for Sevillanos on hot summer nights.
Distinctly urban chic; no traditional white marble or painted tiles here
24-hour room service
You don't want to go out, just nip up to the roof-terrace to mingle with Seville's glam set
Pool is full-sized, unusual in the heart of the city
Very narrow street, better to take a taxi than try and drive there
Free WIFI
Perfect for: modernists, glam night owls
Address: Calle Abades, 41-43, Casco Antiguo, 41004 Sevilla
Destinations