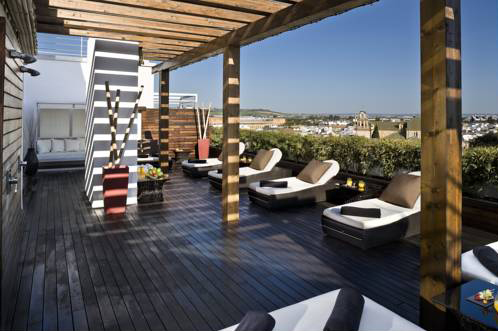 Hotel Gran Melia Colon
Hotel Gran Melia Colon
Romantic and sophisticated, this Seville fixture offers luxury with a modern feel, and a seventh-floor spa.
A long-standing favourite with bullfighters, the Colon was originally built for the 1929 Expo, and was recently revamped. It now boasts contemporary furniture (Philippe Stark), and a bordello-ish white, red, gold and black colour scheme. The velvet chairs and sofas in the round lobby - one of the most striking features of the hotel, with its stained-glass dome and broad white pillars - are artworks in themselves; the lipstick-red flower and star shaped-seats are more attractive than comfortable. The 189 rooms are largely black and white – great azulejo-style designs on the baths, while bathrooms are separated by glass screens from the sleeping area; beds have padded headboards and gold walls, and there's a pillow menu.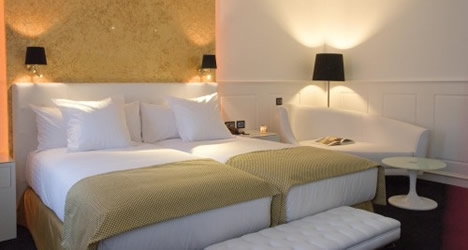 The suites have terraces; penthouse suites have private Jacuzzis, and unlike some hotels' outside areas, which overlook each other, these really are private; corner suites have the best views. If you can't drag yourself away from the hotel, the bar is great, with its white sofas and black tables, nine-panel TV and curious horse-lamp, and as befits a top hotel such as this, you can choose from two eating options: a smart, baroque restaurant next to the lobby, or a less formal tapas place, El Burladero, in the basement. The hotel gets busy when there's a correo (bullfight). For business visitors, and special events, there are eight function rooms, with snappy modern furniture, accommodating from 20 to 200 people.
This grand, neo-baroque hotel is located on the edge of the main shopping area, handy for walks by the river or browsing the boutiques; alternatively, stay in and indulge yourself with a spa treatment, or just sitting in the jacuzzi while enjoying the bird's eye view from the roof.
Rooms, while well-equipped with audio-visual system and computer sockets, are on the small side
Private parking
Bullfighting connections will attract some but put others off
If you hanker after some English-speaking entertainment, there's an Irish pub,
Merchant's Ale House, and the VO (Version Original, as opposed to dubbed) cinema, Avenida 5 Cines, close by.
No pool, but jacuzzi in rooftop spa
You can rent a Wii or Playstation – extra charge, but worth it to keep kids happy
Perfect for: anniversary weekends, romantic rendezvous
Address: Canalejas, 1, Casco Antiguo, 41001 Sevilla
Destinations