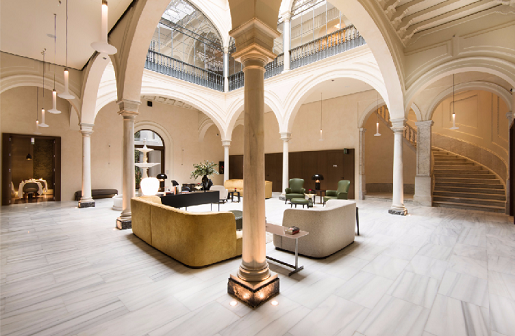 Hotel Mercer Sevilla
The luxury hotel scene in Seville moved up a gear in November 2016, with the opening of the glamorous Mercer Seville, sister to the similarly tasteful luxe Mercer Barcelona, which has a reputation for service second to none.
What's it like?
These hotels are supremely stylish, decorated with exquisite taste and superb attention to detail. Only the second five-star GL (Gran Lujo) hotel in Seville, after the landmark, historic Alfonso XIII, this has just 12 rooms and is located in the Arenal district, close to the bullring, as well as the cathedral.
The ambience is elegant without being stuffy - a spiral marble staircase in the corner of the patio begs to be swept down, but you don't feel underdressed in casual clothes at night.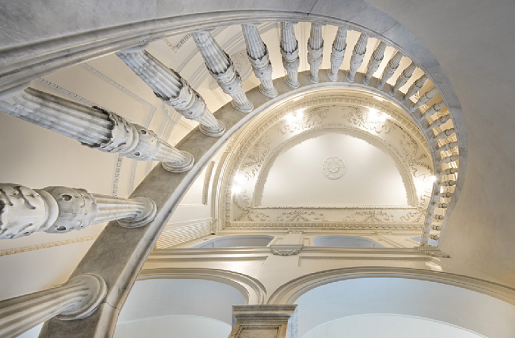 At the heart of the hotel, as in any traditional Andalucian building, is a patio surrounded by a colonnade of arches with a fountain which has, unusually, been shifted from its central position to allow equal attention for all the modern pieces of furniture, especially the gold sofas. At night, a contemporary angular chandelier designed by the architects Cruz y Ortiz (see below) glows above the patio.
Rooms are equipped for the modern-day traveller, with Nespresso machines and kettles, charging points for phones and tablets (no plug or cable needed), Japanese shower-toilets with remote control to select your preferred jet temperature and strength, Molton Brown bath goodies (including face and mouth washes, a nice touch), and minibar offering free soft drinks. The bathrooms are of moulded resin, smooth and white, a complete contrast to the typical marble, and among the most stunning we've seen in any Spanish hotel. Two rooms on the second floor have private terraces complete with shades for protection from the strong Andalucian sun.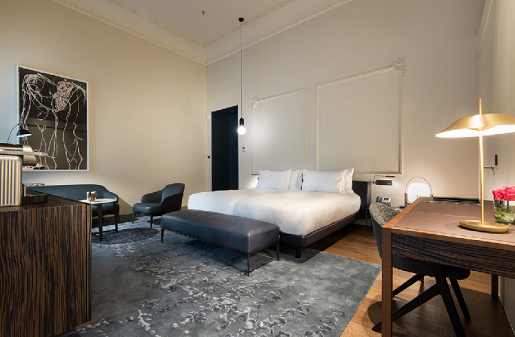 On arrival you're greeted with a glass of cava and a home-made mini-brownie, a great start to any hotel stay. Next to reception is the cocktail bar, a glamorous space with velvet bar stools and low tables and a soaring high ceiling - the menu includes their take on the traditional feria rebujito, which features fruit-infused manzanilla sherry with a citrus foam. In the small restaurant, a continental breakfast of fruit, cereal, pastries and home-made cakes isn't included in the room rate - a steep 26 euros, with cooked dishes extra. From early 2017, the restaurant will start to offer lunch and dinner in addition - expect a similar price tag.
The furniture is one of the main wow factors, and reads like a rollcall of top European design houses - tables by B&B Italia and Giorgetti, seating by Flexform and Gubi, and lighting by Viabizzuno. Some rooms have exquisite Chinese screens which add an exotic oriental feel. After dark, the hotel is beautifully illuminated, softly glowing with enough light to read or see your drink, but nothing bright or garish. Large expressionist paintings by Auguti Puig in the patio and bedrooms give an extra avant-garde edge.
What's its history?
The Casa Palacio Castelar (loosely translated as Castelar mansion) was built in the 1880s and occupied by several illustrious Andalucian families. It has been converted by the Seville architects Cruz y Ortiz, who also built Santa Justa train station back in the early 1990s, as well as the Rijksmuseum refurbishment more recently, along with many other prestigious projects. The basic structure, with central patio, iron-framed glassed-in balcony, and grand façade, have been left untouched - you can still see the pulley door-opener in the original entrance, next to the ironwork gate.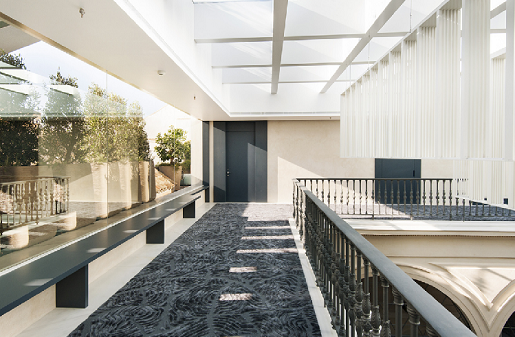 What is there to do?
The roof terrace has a long, narrow swimming pool amidst a fragrant jumble of herbs and other plants, perfect for cooling off on a hot summer's day. There's also a rooftop bar which is only open to residents to ensure maximum privacy and peace. Being a hotel of high calibre, they can arrange everything from massages to accompanied runs with a trainer.
You're in the heart of historic Seville, with the bullring five minutes' walk away, the cathedral and Alcazar the same distance, and the shopping district two minutes away. The Arenal has plenty of lively bars as well as some great tapas bars - try Petit Comte, La Bulla, and sherry hotspot Palo Cortao which is in the same street.
Book Hotel Mercer Sevilla
How to get there?
The hotel is in the Arenal district, located between the river and Avenida de la Constitucion. Calle Castelar is a one-way street south towards the Arenal, so you need to approach it from Calle Zaragoza, turning right at Calle Doña Guiomar.
Mercer Seville, Calle Castelar 26, 41001 Seville tel (00 34) 954 223 004
Destinations