Seville Feria - Eating and Drinking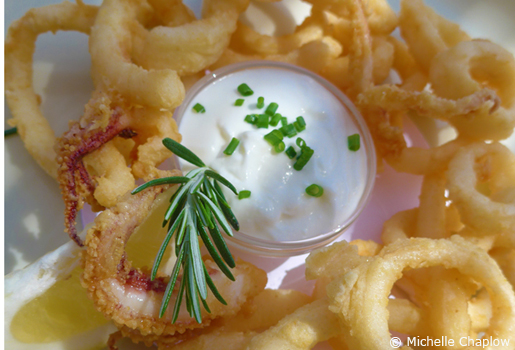 Feria food- 'Calamares fritos con ali-oli Andaluz'- Fried squid with Andalusian garlic mayonnaise.
by Fiona Flores Watson
If you're a guest who has been formally invited to a caseta, once in your host will buy the first round of drinks and raciones - cheese, prawns, ham, 'pescao frito' (fried fish). Let him - it's tradition, and offering to pay will be considered bad form. Then you can order what you want, to share with your host if appropriate.
Casetas usually also serve olives, ensaladilla, various meat dishes, revueltos (scrambled eggs with additions such as hams, asparagus or mushrooms), and of course pescaito frito - a delicious mixture of prawns, calamares, puntillitas (tiny octopus), acedias (baby sole), adobo (marinated dog fish) and other seafood.
Then you can order - a jug of 'rebujito' (manzanilla - dry sherry - mixed with lemonade, very freshing and much better than it sounds; also deceptively alcohlolic for something that tastes like a soft drink) or beer will give you the Dutch courage needed to hit the dance floor. Fino (another type of dry sherry) is also a popular Feria drink.
Most bars will also serve spirits (whisky is especially popular), fruit juices and bottles of mineral water.
Feria de Abril Special Tour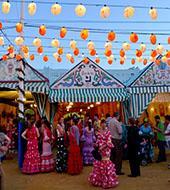 Be surprised by the world famous FERIA DE ABRIL. The annual festival or fair of the Sevillians. We take you to the wonderful world of this special festival with all its legends and traditions. An experience that you simply can not miss if you are in Seville this period. Absolutely not!  
Approx. 2hrs -  21  €

Destinations