Practical Tips - Seville Feria
TIP 1) How to get to the Feria.
The best way (especially if you want to enjoy your rebujitos) is either by public transport (bus or Metro), or by taxi. More info>
TIP 2) What to wear at the feria.
Dressing for the Feria, from the outfit itself, with all the accessories, to staying comfortable. You don't have to spend a fortune, either.
Practical dress tips for ladies
If you're wearing a flamenco dress, use its hidden pocket under the outer skirt layer (so you don't have to flash your knickers) for essentials such as sunglasses, keys, mobile phone, plus a map of the recinto to find your friends´ casetas - published in newspapers or available from tourist offices and information desks. You can also get a map from the information desks at the Feria itself, by the portada and at the other end, by Calle del Infierno.
Some people prefer to wear comfortable shoes, such as high-heeled esparto sandals, with their long flamenco dress; if you want to make a noise on the dance floor, then flamenco shoes are the thing. Be aware that if it rains, as the streets will soon turn to mud. You'll be dancing, and walking around, for many hours, and you´ll appreciate them even more as you join the bus queue at 5am. Obviously you won't be able to tap your shoes on the wooden floor as you dance sevillanas, but then you can't have everything.
Each caseta has a loo, but the queues can get very long, and the facilities aren't always well maintained, so be warned.
TIP 3) What to eat and drink.
In Feria casetas, there are no tapas: it's either raciones (big plates) or montaditos (small grilled sandwiches), washed down with a rebujito.
TIP 4) Attractions
Calle de Infierno is the name for the funfair situated between the recinto and the car park next to Blas Infante metro station. It is much-loved by teenagers and is packed on weekends; go in the early afternoon to avoid the crowds.
TIP 5) Public Caseta
If you don't have any invitations for private casetas, fear not. There are around 20 casetas where all are welcome. Just be a little wary at night, when the crowds at the public casetas can get on the colourful and lively side.
TIP 6) Finding your way around
The Feria recinto (area) is large, with 15 streets lined with casetas – you need to have a map to hand to find your way around. Printed ones can be found at the information desks, with an index of casetas and their addresses; there are also apps.
TIP 7) Seville Feria Dates
The Feria starts on a Saturday night and runs seven days to the following Saturday night. Officially it kicks off at midnight on the Saturday night with the alumbrado. 
Buy tickets for Seville Feria Guided Tour
SEVILLE APRIL FAIR PRIVATE TOUR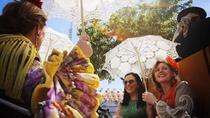 SEVILLE APRIL FAIR PRIVATE TOUR
Enjoy the exclusive private tour for Viator customers at the Feria de Sevilla. Meet the most international Fair where flamenco and fiesta come together in a very peculiar origin. Sevilla dresses up in its big week. We will be picked up at the hotel by horse-drawn carriage to move to the fairgrounds. More than a thousand "booths" where gastronomy and folklore will be waiting for us. We will take a guided tour of the site and end up enjoying the Andalusian cuisine with a good wine from Jerez in a private "booth". At the end we will move to the hotel.

Destinations