Casetas at Seville Feria
The Feria has over 1,000 casetas (literally small houses), green or red-and-white striped tents of varying sizes arranged along 15 streets. Each caseta has its own name on the front, and belongs to a local family, group of friends, business, club, trade association or political party. 
The casetas are decorated like small houses, all different, with painted wooden tables and chairs, curtains, pictures on the wall, a bar serving food and drink, and toilets.There's a front part, with tables for eating, and dancing, while in the back part you can find the bar and toilets.
It is important to be aware that the Seville Feria is the most closed and exclusive of all Andalucian fairs: the majority of the casetas are private and open only to members and their guests.
Every day during Feria week, from midday until the small hours, members of the caseta meet there to eat, drink, dance and socialise from lunchtime until the small hours. Being able to welcome guests in your own caseta proves a certain status in Seville society. This is an essential event as a host, both in social and business terms - you can impress your friends, woo your intended, and strike a deal with a potential client or partner. Sevillanos are extremely generous, so if you're lucky enough to have an invitation to a private caseta, as a visitor you will probably be plied with drink and food.
Casetas open to the public
If not, you have other options: there are a number of public casetas - Fiesta Mayores, and one for each of six distritos municipales (municipal districts) of Seville. You can also enter the political parties' ones (PSOE, PP, Partido Andalucista); the trades unions' (CCOO, UGT, USO); one called La Marimorena, which serves vegan food; and the new tourist one.
Pick up a map marking all the casetas, including the public ones, from one of the two tourist information kiosks. These are located just inside the feria ground: one by the portada, and one at the other end, by Calle del Infierno.
Área de Fiestas Mayores - C/ Costillares, 13
Caseta Turística - C/ Pascual Márquez, 225
La Marimorena, c/ Manolo Vazquez 31
Seville City Districts
Distrito Nervión- San Pablo - C/ Costillares , 22
Distrito Casco Antiguo - C/ Antonio Bienvenida, 97
Distrito Triana-Los Remedios - C/ Pascual Márquez, 153
Distrito Este - C/ Pascual Márquez, 215
Distrito Cerro-Amate - C/ Costillares, 82
Distrito Macarena-Norte - C/ Pascual Márquez, 85 - 
Distrito Sur-Bellavista - C/ Ignacio Sánchez Mejías, 61
Political Parties
Partido Andalucista - C/ Juan Belmonte , 196
Partido Popular de Sevilla - C/ Pascual Márquez, 66
PSOE Andalucía - C/ Antonio Bienvenida, 79
Trade Unions
CC.OO. Sevilla - C/ Pascual Márquez, 81
UGT - C/ Antonio Bienvenida, 13
USO - C/ Curro Romero, 25
Buy tickets for Alcazar Guided Tour
SEVILLE APRIL FAIR PRIVATE TOUR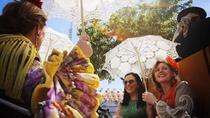 SEVILLE APRIL FAIR PRIVATE TOUR
Enjoy the exclusive private tour for Viator customers at the Feria de Sevilla. Meet the most international Fair where flamenco and fiesta come together in a very peculiar origin. Sevilla dresses up in its big week. We will be picked up at the hotel by horse-drawn carriage to move to the fairgrounds. More than a thousand "booths" where gastronomy and folklore will be waiting for us. We will take a guided tour of the site and end up enjoying the Andalusian cuisine with a good wine from Jerez in a private "booth". At the end we will move to the hotel.