How to get to the Feria
Car: don't even try to park near the Feria, unless you have a micro-car like a Smart which will fit into the smallest spaces. Instead, leave it at the Charco de la Pava car park, and catch the shuttle bus to the main recinto. Bear in mind that the police will be out in force with breathalyser checkpoints, so don't drink and drive.
Taxi: be aware that taxis hike their fares during the Feria. There's a taxi stop by the portada where you wait in a queue. If you don`t leave at peak time (from about 2am) you should be able to get one with queuing for too long; after 2am, you'll queue for at least an hour. Cabify and Uber both operate in Seville, but only official licensed taxis can collect fares from the taxi stop by the portada. Other taxi app services drop off and collect their passengers at the back of the Feria ground, or Avenida Juan Pablo II.
Bus: the best option, if you live, or are staying in, the centre. The C1, C2, 5, 6 and 41 lines all stop close to the recinto (feria ground), and operate 24 hours a day during the Feria. A special direct Feria service leaves from the Prado de San Sebastian (the stop is on calle Jose Maria Osborne).
Many towns outside the city, in the Aljarafe area especially, operate special Feria bus services, which leave from next to Blas Infante metro station. This is the most economic option if you're not staying in Seville itself (some are free, thanks to their town hall), although be aware that these buses only leave once an hour.
Metro: this also operates 24 hours a day during Feria (from 7.30am on the first Saturday until 11pm on second Sunday), with some double trains to cope with the extra passengers. The nearest stops are Plaza de Cuba and Parque de los Principes; Blas Infante is good for Calle del Infierno amusument park. You can park your car at San Juan Bajo and San Juan Alto stations.
Rental electric mopeds, scooters and bikes: these are a convenient and economical choice, as you can park them close to the recinto. Be aware that they are motorised transport, so you shouldn't drink more than the legal alcohol limit before operating them.
Horse and carriage: arrive in style, and pay through the nose for your ride around the fairground - you won't get much change out of €150, but you'll feel like a lord. Plus you can take along some liquid refreshment.
Buy tickets for Seville Feria Guided Tour
SEVILLE APRIL FAIR PRIVATE TOUR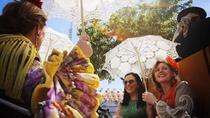 SEVILLE APRIL FAIR PRIVATE TOUR
Enjoy the exclusive private tour for Viator customers at the Feria de Sevilla. Meet the most international Fair where flamenco and fiesta come together in a very peculiar origin. Sevilla dresses up in its big week. We will be picked up at the hotel by horse-drawn carriage to move to the fairgrounds. More than a thousand "booths" where gastronomy and folklore will be waiting for us. We will take a guided tour of the site and end up enjoying the Andalusian cuisine with a good wine from Jerez in a private "booth". At the end we will move to the hotel.

Plan of Seville feria ground
Here is a plan of the Seville Feria ground. It is in PDF format and downloadable from Google Docs. It is the official plan for 2019, changes from year to year are minimal.
Destinations