History of the Seville Feria
The Feria started in 1846 as a livestock fair in the Prado de Sebastian, where horses were traded. Its aim was also to provide an uplifting distraction from the aftermath of the Napoleonic invasion and the hurricane of 1842, a category 2 storm which had destroyed homes in Seville.
The men who had the idea came not from Seville, but from Bilbao and Barcelona – city councillors José María Ibarra and Narciso Bonaplata.
The inaugural Feria lasted for three days, 18-20 April. There were 19 casetas and 15,000 visitors.
Other notable instances of the Feria include a stressful few days in 1931, when the Second Republic was declared after King Alfonso XIII had fled the country, just before the Feria was due to start. Republican flags had to be hastily created, to replace the royal ones.
In 1964, a fire damaged 67 casetas, with 50 injured and one person died. The affected casetas were rapidly rebuilt and the Feria carried on.
By 1973 the Feria had outgrown its original site, with now 630 casetas over 64,000m2 , and transferred to the current site in Los Remedios.
Famous people who have attended the Feria include Grace Kelly, Ava Gardener and Audrey Hepburn.
For more about the history of the Feria, see this article.
Buy tickets for Seville Feria Guided Tour
SEVILLE APRIL FAIR PRIVATE TOUR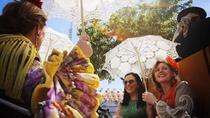 SEVILLE APRIL FAIR PRIVATE TOUR
Enjoy the exclusive private tour for Viator customers at the Feria de Sevilla. Meet the most international Fair where flamenco and fiesta come together in a very peculiar origin. Sevilla dresses up in its big week. We will be picked up at the hotel by horse-drawn carriage to move to the fairgrounds. More than a thousand "booths" where gastronomy and folklore will be waiting for us. We will take a guided tour of the site and end up enjoying the Andalusian cuisine with a good wine from Jerez in a private "booth". At the end we will move to the hotel.

Destinations