The Seville Fair's Amusement Park
The Seville April Fair takes place in the Los Remedios neighbourhood in Seville on grounds covering 1.2 million square metres. Part of this area is set aside every year for the amusement park known as "Calle del Infierno" (Hell's Street). This is where all the rides, shows, circus events and other big-time entertainment takes place.
The Seville Fair's amusement park is designed for all ages, with a kiddy area full of mini-rides and other suitable attractions for the smallest fairgoers. For the older, and especially more adventurous, visitors this corner of the fair offers not only all the standard carnival rides, but also attracts some of the latest novelties every year, with roller coasters and other contraptions to hurl you into the air, upside down and so on.
On some rides, a photo is taken of the passengers in each car, and then afterwards you can choose whether to buy the image, either in print or digitally(around €4-5). It's not cheap, but it does make a fun personalised souvenir from the Feria, especially if you're dressed up.
Bumper cars are popular, and there's always a haunted house and a crazy house, as well as inflatables on water that you roll around in. A less high-adrenalin, but very scenic, option is to ride on a big wheel. Of the three, the largest is located at the far end from the casetas, by the circus; all offer great view of the entire Feria recinto.
While the main attraction at the Seville Fair is the drinking, dancing and eating that takes place in the casetas, most people take some time out to get a thrill on Hell's Street. And it's a must for families with young children.
Rides cost around €5 each; a few accept payment by card.
Buy tickets for Seville Feria Guided Tour
SEVILLE APRIL FAIR PRIVATE TOUR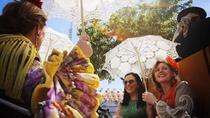 SEVILLE APRIL FAIR PRIVATE TOUR
Enjoy the exclusive private tour for Viator customers at the Feria de Sevilla. Meet the most international Fair where flamenco and fiesta come together in a very peculiar origin. Sevilla dresses up in its big week. We will be picked up at the hotel by horse-drawn carriage to move to the fairgrounds. More than a thousand "booths" where gastronomy and folklore will be waiting for us. We will take a guided tour of the site and end up enjoying the Andalusian cuisine with a good wine from Jerez in a private "booth". At the end we will move to the hotel.

Destinations