The gorgeous flamenco dresses for women and the "trajes cortos" (short suits) for men.
What to wear (and what not to) when you go to the fair...
As tourists approach the Seville Fair in simple shirts and trousers, cameras in hand and sunglasses ready for action, it might appear that all the natives are simply dressed in some traditional folkloric costume that only varies slightly in colour and cut from one person to another.
Look again. In fact, every year the styles change at the Seville fair with new patterns, colours and dramatically different cuts in the traditional flamenco dress putting some women on the cutting edge of fashion and marking others as last year's leftovers. Not only that, but those smart suits you see on those lucky enough to attend the fair on horseback also evolve, but only within very strict guidelines (one of them being – no sunglasses to accompany the suit!).
Feria de Abril Special Tour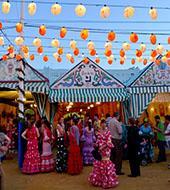 Be surprised by the world famous FERIA DE ABRIL. The annual festival or fair of the Sevillians. We take you to the wonderful world of this special festival with all its legends and traditions. An experience that you simply can not miss if you are in Seville this period. Absolutely not!  
Approx. 2hrs -  21  €

Destinations