Plan of Seville feria ground
The Feria recinto (area) is large, with 15 streets lined with casetas – you need to have a map to hand to find your way around. Printed ones can be found at the information desks, with an index of casetas and their addresses; there are also apps.
Here is a plan of the Seville Feria ground. It is in PDF format and downloadable from Google Docs. It is the official plan for 2019, changes from year to year are minimal.
Buy tickets for Seville Feria Guided Tour
SEVILLE APRIL FAIR PRIVATE TOUR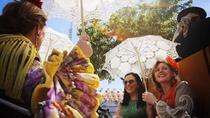 SEVILLE APRIL FAIR PRIVATE TOUR
Enjoy the exclusive private tour for Viator customers at the Feria de Sevilla. Meet the most international Fair where flamenco and fiesta come together in a very peculiar origin. Sevilla dresses up in its big week. We will be picked up at the hotel by horse-drawn carriage to move to the fairgrounds. More than a thousand "booths" where gastronomy and folklore will be waiting for us. We will take a guided tour of the site and end up enjoying the Andalusian cuisine with a good wine from Jerez in a private "booth". At the end we will move to the hotel.

Location map of Los Remedios - Seville feria ground