Plan of Seville feria ground
Here is a plan of the Seville Feria ground. It is in PDF format and downloadable form Google Docs. It is the official plan for 2019.  We will upate it when posible however changes from year to year are minimal.
Location map of Los Remedios - Seville feria ground
Feria de Abril Special Tour
Here is location map of Seville feria ground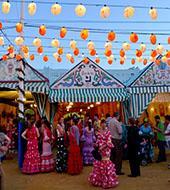 Be surprised by the world famous FERIA DE ABRIL. The annual festival or fair of the Sevillians. We take you to the wonderful world of this special festival with all its legends and traditions. An experience that you simply can not miss if you are in Seville this period. Absolutely not!  
Approx. 2hrs -  21  €

Feria de Abril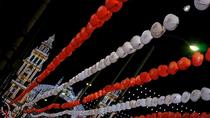 Feria de Abril
Get on our 4-hours Guided Tour to Feria de Abril (April Fair) in Seville. Meet the guide in the city center and have a cool jug of Rebujito at the pub just before you depart to the April Fair - to see many colorful flowering gitana's dresses dance sevillanas!

Feria de Abril Bar Crawl in Seville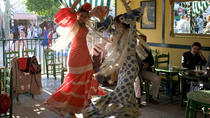 Feria de Abril Bar Crawl in Seville
Enjoy the nightlife of the 'Feria de abril de Sevilla' with this 4 hour guided tour. You will start the tour in the Oasis Palace Bar, initiating the adventure with a first jug of Rebujito, the characteristic drink of the Feria made with Xerez wine and Sprite. Continue to the fair tents for more celebrating.

SEVILLE APRIL FAIR PRIVATE TOUR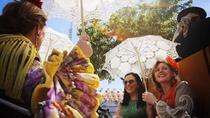 SEVILLE APRIL FAIR PRIVATE TOUR
Enjoy the exclusive private tour for Viator customers at the Feria de Sevilla. Meet the most international Fair where flamenco and fiesta come together in a very peculiar origin. Sevilla dresses up in its big week. We will be picked up at the hotel by horse-drawn carriage to move to the fairgrounds. More than a thousand "booths" where gastronomy and folklore will be waiting for us. We will take a guided tour of the site and end up enjoying the Andalusian cuisine with a good wine from Jerez in a private "booth". At the end we will move to the hotel.