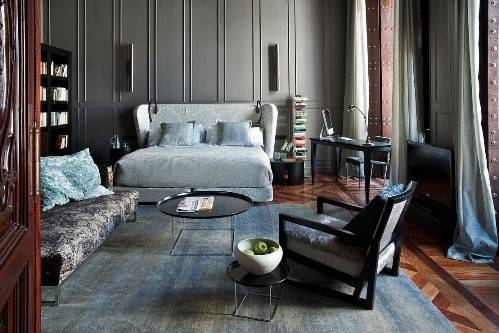 Hotel Palacio de Villapanes
Hotel Palacio de Villapanes.
Hotel Palacio de Villapanes boasts a formidable entrance of pale-coloured stone, topped by a heraldic crest. Inside, a red marble floor and imposing black pillars lead to the patio; the 18th-century palace's historic pedigree (it was built by the 1st Marques de Torre Blanca del Aljarafe; the Villapanes title was taken by a descendant) is further evident from another massive coat of arms on the grand staircase.
Clever décor marries north African, Sevillano and contemporary; elaborate metal grille doors feature around the hotel, as do wooden casement doors. Rooms have that clubby, homely feel, achieved by using artfully combined furniture: anglepoise lamps, low, angular 1950s armchairs, contemporary ceiling lights and dove-grey walls, with heavy wooden doors - contemporary-retro.
We love the turquoise bar with wood parquet floor and blown-up Sevillian tile designs – an innovative blend of Moorish and local, and a fresh take on Seville's rich cultural history. The restaurant, although cleverly painted white and in a beautiful vaulted space, is in the basement; if you prefer a space with more natural light, you could always try the one at the hotel opposite.

The luxury is, as always, as much in the details as in the room size, although that is impressive too (even standard rooms are 35-45m2) – angled reading lights above the bed, Bvlgari toiletries, Loewe TVs, Tivoli radios, iMacs (suites only). The hotel has 50 bedrooms, of which 15 are suites, measuring from 60m2 to a whopping 86m2. The Suite Torreon has a vaulted ceiling, massive windows looking onto its own private terrace, while you can bathe in an original 19th-century marble bath. Other suites have mirrored, pannelled or carved wood doors leading from the sitting room to the bedroom, coffered ceiling and stained-glass windows. If you need to escape all this comfort, the small spa has a sauna and steam bath, massage room and relaxation area with fibre-optic light installation, as well as a mini-gym for the more energetic. Cool off from Seville's hot days in the rooftop plunge pool.
Why should I stay there?
To experience an 18th-century ducal palace with a contemporary feel, thanks to designer furniture by the likes of Patricia Urquiola, next to ancestral coats of arms. This is a five-star historic hotel with a very classy feel.
Where is it?
The hotel is located between Santa Cruz and Santa Catalina, with no shops or restaurants in the immediate vicinity. Nearby you can find Seville's oldest tapas bar, El Rinconcillo, and a short walk away in the other direction you'll find Casa de Pilatos, a mudejar-renaissance palace with stunning tiles and Roman statues. The main shopping area is about 15 minutes' walk away, and the cathedral and Alcazar 20 minutes
What kind of person stays there?
Those who appreciate fine architecture and carefully curated interiors. and don't mind not being at the centre of the action. Anyone who likes a historical ambience.
What's it like?
A grand stone entrance with marble floors gives way to a traditional, open-air patio with a stone fountain topped by a sculpture and surrounded by leafy green plants. A larger patio, beyond, has ample seating, and shady areas, while the small roof terrace has a (seasonal) plunge pool and bar. The feel throughout is upscale without being remotely flashy.
What the rooms like?
Rooms are in sophisticated gunmetal grey, with inviting upholstered bedheads and clever lighting. Bathrooms have freestanding bathtubs, hydromassage showers, and Molton Brown orange and bergamot -scented goodies, including shampoo and conditioner. Free minibar includes iced tea and beer, as well as other soft drinks. If your budget allows, get one of the suites, with lofty ceilings, parquet wood floors and street view - plus Krups coffee machine and iMac.
What should I eat there?
You have the choice of an all-day tapas menu with the likes of bulls' tail croquettes and platters of ham and cheese, which can be eaten in the bar, in one of the patios or alternatively in the dining room, which was the old wine store. Dinner is served in the dining room, with dishes including pork fillet or black rice with calamari and roasted apple. Breakfast is served in the basement crypt, an impressive spread of juices, cereal, fresh fruit, and cooked options.
What should I see and do in the area?
The old Jewish quarter of barrio Santa Cruz is about 10 minutes' walk through windy streets, and the Alfalfa, with independent bars and shops, is the same distance. The hotel provides its own handy printed leaflet with a curated list of restaurants and tapas bars by type (contemporary, traditional, vegetarian), markets and main monuments
Address: Santiago, 31, Casco Antiguo, 41003 Sevilla
Destinations