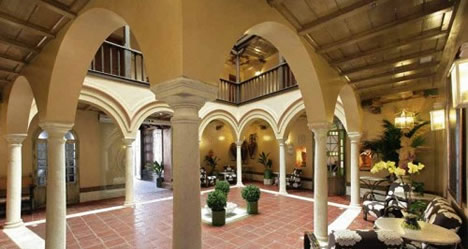 Hotel Sacristia Santa Ana
A bijou 17th-century converted convent superbly located for nightlife, with bars, restaurants and clubs on its doorstep.
If it's after-dark ambience you're after, this one's ideally located for you – you can't get closer to the action than on the Alameda de Hercules itself. Once notorious for its louche inhabitants, the recently revamped alameda is now the heart of bohemian Seville. This broad, tree-lined avenue, with its year-round buzzing outdoor scene, has innovative restaurants and bars. The Sacristia occupies a corner house, about half way up.
The simple patio, with cream walls, terracotta-tiled floor and a pretty white marble fountain at its centre, is furnished with elegant little chairs and leafy plants. The 25 rooms, on three storeys, are named after characters from classical mythology related to Hercules, such as Megara, Cerion and Hera; some have with original coffered wood ceilings, while décor is a harmonious mix of toile de jouey, cool shades of green and the odd contemporary touch. Furniture is dainty French country, much of its antique restored and re-upholstered pieces, and each bed's headboard is individually handpainted.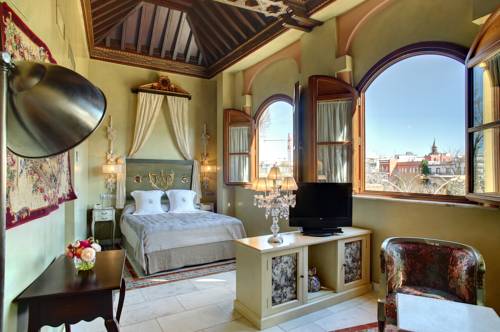 Hotel Sacrista Santa Ana
If your rooms faces the Alameda itself, beware of noise, especially at weekends in warm weather. But you may also have a view of the statues of Seville-born Roman emperors Trajan and Adriano, at the southern end of the avenue. There's an organic market once a month – a novelty for Seville – and two popular kids' play areas, and the (relative) lack of traffic makes it a child-friendly area (though watch out for the dog poop).
Nightlife for every taste – straight, gay, heavy, jazz – minutes away
Young, less conservative area than barrio Santa Cruz; also good for families
Occasional tables are for sale
Restaurant only offers breakfast, but you're spoiled for choice around here
Free wifi
Perfect for: clubbers, night owls and lovers of romantic French décor.
Address: Alameda de Hercules 22, Casco Antiguo, 41002 Sevilla
Destinations