Alfonso XIII, Seville

Hotel Alfonso XIII
This hotel is a true landmark - a Mudejar palace built for a king, whose name it takes. Located near the Parque Maria Luisa, the Alfonso XIII has an important place is Seville's history, and in its affections.
What's it like?
The hotel is a magnificent, imposing and luxurious building with towers, marble floors and hand-painted tiles. Recently refurbished (2012), it's one of those places which is an experience to stay in, as much as a place to lay your head. With 151 rooms, including 19 suites, decorated in Moorish, Castillian or Andalucian style, it has geometric rugs and classic-contemporary furnishings, accented by Moroccan lamps, inlaid tables and intricate plaster mouldings (Moorish rooms) and medieval-style studded tables and chairs (Andalucian and Castillian). The Royal Suite is 200m2 and has a mother-of-pearl inlaid cabinet which was a gift from the Aga Khan. The other two suites, Reales Alcazares and Torreon, both have privileged features: the former offers views over the (real) royal palace and is modelled on the private office of Maria Padilla, mistress of Kind Pedro the Cruel, while the latter has a huge private terrace, which includes one of the hotel's corner towers.
As befits such an establishment, the function rooms are very grand with beautiful tiling, wood-coffered ceilings and Bohemian crystal chandeliers.
Unusually for a five-star luxury hotel, the Alfonso XIII doesn't have a spa, but there is a good-sized outdoor swimming pool in the garden, a sauna and a gym. Foodies will enjoy the garden Arab-style restaurant and the innovative tapas bar with long leather banquettes, with a large, shady terrace, while cocktails are on the menu at the turquoise Art Deco bar.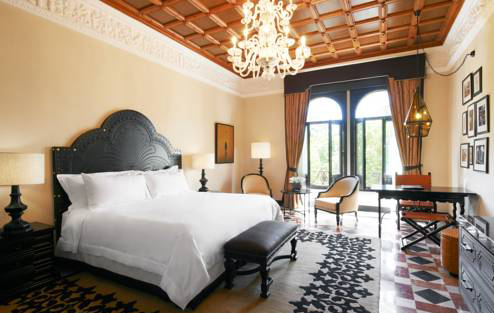 Alfonso XIII, Seville
What's its history?
This palatial establishment was built by King Alfonso XIII to be the finest hotel in Europe. The occasion which prompted such a lavish construction was the Ibero-Americano Expo of 1929, a showcase for the world displaying the best of Spain, Portugal and the Latin-American countries.
Afterwards, it became the preferred stopping point for the current king's late grandmother, Doña Maria de las Mercedes de Borbón y Orleáns, as well as Seville's most glamorous and celebrated visitors, including Princess Grace of Monaco, Rita Hayworth (whose father was from Seville), Orson Welles, Audrey Hepburn, Sofia Loren, Jackie Kennedy and Princess Diana; some scenes of Lawrence of Arabia were filmed here.
Famous guests who have stayed there more recently include Pierce Brosnan (while he was filming of Die Another Day in Cadiz), Lenny Kravitz, Brad Pitt, Shakira and the Game of Thrones (season seven) cast.
What is there to do?
Apart from the aforementioned swimming pool and other facilities, you have a privileged location: Seville, one of Spain's most romantic and beguiling cities, is on your doorstep. You're a stone's throw from all the main monuments: the Alcazar palace, the Cathedral and Giralda, and the Plaza de España. Take it all with some leisurely strolling, or alternatively rest your feet and opt for a horse and carriage ride. Boat trips - the river is nearby - are a good way to get to know the city from an alternative perspective. Seville has endless tapas bars for you to try, from the traditional tiles-and-strip-lighting variety, to the contemporary minimalist. Or take in a flamenco show.
Book Alfonso XIII
How to get there
The hotel is located on the edge of Seville's historic centre, next to Puerta Jerez, on the corner of Calle San Fernando and Calle Palos de la Frontera; Puerta Jerez metro station is just metres away. It has its own car park.
Destinations