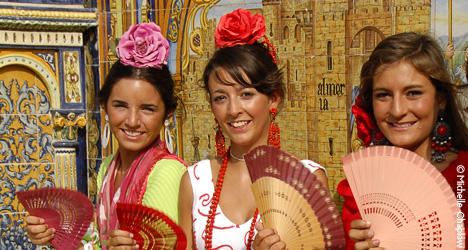 10 Fascinating facts about Seville - Part I
Here are some facts that you may or may not know about the city, whether you´re visiting Seville for the first time, you´re a seasoned expert, or you live here. Films, fruit, sport, history, religion and politics - tasty titbits for everyone to savour
1) SEVILLANO PRIDE AND PREJUDICE
Sevillanos are very well-known, throughout Spain and the wider world, for their fierce pride in their city.
They are, first and foremost, from Seville; secondly, from Andalucia; and a distant third, from Spain. Goings on in Madrid are of little interest to a Sevillano, while Barcelona may as well be in another country. For them, life revolves around tapas (see below, Anyone for Tapas?), bullfighting, Semana Santa and Feria. In the summer, there´s the beach - in Cadiz or Huelva regions and all winter long, they discuss and plan their Feria outfit endlessly - colour, cut, hem length and accessories, with the atmosphere reaching fever pitch as Spring arrives and the whirlwind of Seville´s annual social events season gets under way.
Sevillanos see no need to venture beyond their Sevilla, where things stay the same year after year, and change is not generally welcomed. Visitors to Seville will find this attitude both endearing and exasperating, but always intriguing.
2) SEVILLE ON THE SILVER SCREEN
Sevilla is beloved of movie directors for its range of well-preserved buildings from every era and style, from medieval to regionalist.
Parque Maria Luisa´s Expo 1929 buildings are popular spots: Plaza de España, with its bizarre architectural hotchpotch of sweeping circular façade, neo-Moorish arches and Venetian bridges, was planet Naboo´s Theed Palace in Star Wars Episode II: Attack of the Clones. In the classic Lawrence of Arabia, its Palacio Español doubled as the Cairo Officers´ Club, while the park´s Plaza de las Americas was Jerusalem, and the nearby Casino was Damascus Town Hall.
Casa de Pilatos was used in the crusades movie Kingdom of Heaven, starring Orlando Bloom, as well as in 1492: Conquest of Paradise, about Christopher Columbus (see the Cathedral-Columbus Controversy, below). Some Lawrence scenes were also filmed here, while the Alcazar appeared as the court of the King of Jerusalem in Kingdom.
Part II - Fascinating Fact 3 and 4
Destinations